Winstanley & York Road Estate regeneration gets a green light
Published: Wednesday, November 25, 2020
Wandsworth Council's plans to build up to 2,550 new homes on the Winstanley and York Road Estates have been backed by the GLA.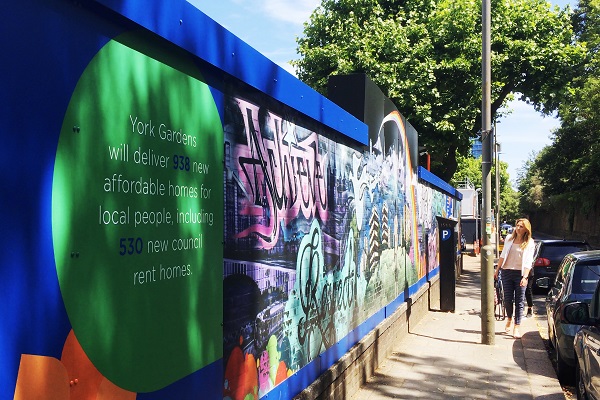 Built by Winstanley & York Road Regeneration, a joint venture between Taylor Wimpey and Wandsworth  Council, the development will provide 35 per cent of the homes for social rent, London affordable rent or shared ownership, while the rest are for private sale or rent.
The regeneration programme includes building a state-of-the-art leisure centre, a community centre, a library, a children's centre and nursery, a new local office for Workmatch, a health centre and a new 2.49 hectares public park.
It is also expected to create 88 permanent jobs for local people, 3,360 temporary construction jobs and an overall boost to the local economy of £207.6m.
The plans for the estates were drawn up following a huge consultation with estate residents and neighbours over a six year period and every secure council tenant and resident council leaseholder will get a new council owned home if they want to stay on the estate. All social rent housing for existing secure council tenants will be built to meet their individual housing needs, eliminating over-crowding.
The council and its development partner Taylor Wimpey have already made significant progress on the site with the recent completion of the first blocks of new housing, Mitchell House and Duvall House. A new Battersea Baptist Church, Thames College school are also well underway along with a new multi-use games area.
Leader of the Council Cllr Ravi Govindia said: "This endorsement of our approach means we can push on with our plans. We have made a commitment to every secure council tenant and resident leaseholder that they will have the right to a new, improved property and I am confident that having the opportunity to live in better, higher quality, sustainable homes will genuinely improve people's lives."
Peter Gore, Managing Director of Taylor Wimpey Central London, added: "We are delighted to move forward with this significant regeneration, which will provide hundreds of quality affordable homes, including new homes for all Council tenants and resident leaseholders on the same site. Alongside this we will be providing major new community facilities and improved infrastructure, as well as the creation of the new public park."
Cllr Tony Belton, ward councillor for Latchmere Ward which covers the estate, said: "I am delighted to hear the good news. It ensures we can get on with the job of providing new homes for those in need and welcome extra housing in Winstanley ending uncertainty for the residents."
The new homes on the estate are energy efficient and will help to take many residents out of fuel poverty. The council is also planting more trees, creating new walkways and cycle lanes.
The council hopes to receive full planning permission in a couple of weeks time once all of the requirements of the Planning Applications Committee resolution to approve have been met.
For more information visit www.winstanleyyorkroad.co.uk.