Spotlight on this year's top adult learners
Published: Thursday, November 19, 2020
This year's Wandsworth Lifelong Learning Awards have moved online, with the achievements of 14 of the borough's top adult learners showcased on social media.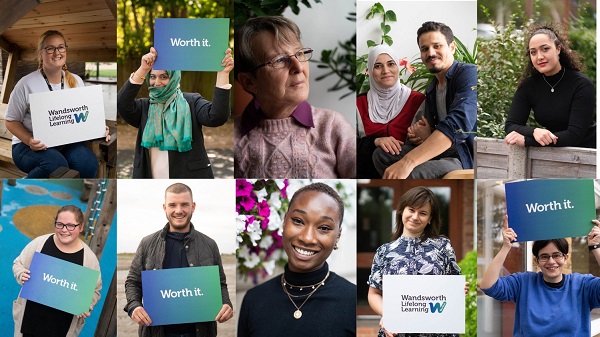 The awards recognise the borough's highest achieving adult learners – rewarding them for their commitment and success over the past 12 months. 
Due to the ongoing pandemic, there will be no 2020 awards evening. Instead the council's Lifelong Learning Team are showing the wide range of courses on offer from the council and its partners, and the hard work and dedication of some of the most successful learners.  
They have been telling their stories through interviews, videos, photos and selfies, shared through the Lifelong Learning social media platforms.  They include people who have been on courses provided directly by the council, and on those provided by subcontracted providers such as South Thames College and Banham Academy.  
#VAwandsworth #WandsworthLearning #Wandsworth #WandsworthCouncil #VirtualLearning2020 #shortlisted@wandbc @WandsworthCofC @WandsChamber @wandsworthlibs pic.twitter.com/p0w8LWasBk

— Wandsworth Lifelong Learning (@WBCLLearning) October 29, 2020
All the adult learners have been on apprenticeships or other courses that support skills for work, with a wide range of courses available for people to upgrade current skills or learn new ones.  
On November 26  a special film will be broadcast revealing which of the 14 finalists has won the title of Adult Learner of the Year.  
Cllr Will Sweet, cabinet member for schools and education, said: "We couldn't hold our usual Lifelong Learning Awards ceremony but this year more than ever we felt it was important to show that there's still loads of support to learn new things and brush up existing skills.
"I've loved watching the videos, and I'd encourage everyone to listen to our finalists' stories about how Lifelong Learning helped them, and explore how it could help you." 
Cllr Aled Richards-Jones, cabinet member for economic development, skills and employment, said: "In these challenging times it's more important than ever to develop skills that will make you more employable. The council is keen to encourage people to find out what free apprenticeships and course are on offer in Wandsworth.
"It's been a real privilege to learn about the journeys of our 14 finalists, and I hope their stories inspire others who could benefit from Wandsworth's Lifelong Learning offer." 
The council's Lifelong Learning team run a wide range of courses for adult learners, including apprenticeships and courses to help people develop skills for work as well as the opportunity to learn for fun. See the Lifelong Learning Guide for details. 
There are also experienced careers guidance counsellors offering individual support. If you feel you could benefit, call 07919 392 254 or email Dustine.Davis@richmondandwandsworth.gov.uk. 
For more information on Lifelong Learning visit www.wandsworthlifelonglearning.org.uk. 
Learn about the finalists on the Lifelong Learning twitter feed.