Your chance to help shape improvements at Wandsworth Park playground
Published: Wednesday, June 23, 2021
Children and families who use the playground in Wandsworth Park are being reminded they have just under a fortnight left to make suggestions on how the play area could be improved and what they think of the existing play equipment.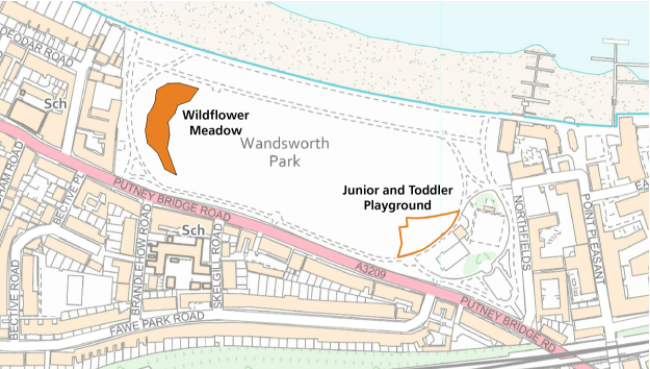 A public consultation is currently underway to gauge the view of local people as part of an ongoing series of initiatives costing around £300,000 to enhance and improve this important and valued open space.
Visitors to the park are already benefiting from landscape and access improvements while the public toilets have also been refurbished. Now the council is keen to hear people's views on the playground and how it could be improved.
The new play equipment will have to be appropriate for the age range of intended use. For Wandsworth Park Junior and Toddler Playground the intended age range is for children up to 16 years old.
The consultation coincides with the launch of a separate project to create a wildflower meadow in the west of the park to support greater biodiversity.
To take part in the consultation, which will draw to a close on July 7, please visit https://haveyoursay.citizenspace.com/wandsworthecs/wandsworthpark-21 The consultation page also includes details of the wildflower meadow project.
Once the consultation has closed, all the feedback will be carefully considered to help shape three design choices which will then be subject to fresh consultation in the autumn.
Parks and open spaces spokesman Steffi Sutters said: "We know that Wandsworth Park is really popular with young families and we want to make sure the playground meets all their needs. This is why we are asking them to come forward with ideas and suggestions on how it could be improved. This will be the latest stage of a £300,000 investment in the park and its facilities to offer residents in this part of the borough a really wonderful outdoor space to enjoy."
People who would prefer to fill out a paper copy of the questionnaire can email parks@enablelc.org or telephone 0772 511 4053.
The consultation closes on Wednesday, July 7.