Detailed roadmap sets out ambitious programme to help borough's young people recover from lockdown
Published: Thursday, June 24, 2021
The council has published further details of the roadmap it has drawn up outlining its ambitious £2m programme to help children and young people recover from the pandemic, return to learning and training and boost their job prospects.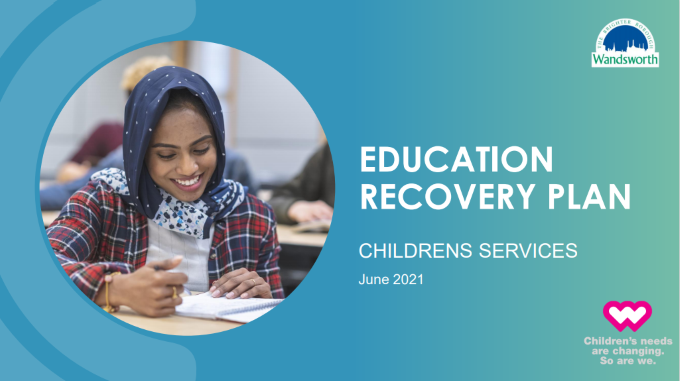 The roadmap incorporates five key foundation stones that will provide a comprehensive package of support for the borough's children and young people.
The five elements cover: Tutoring and mentoring; Mental health and well-being; Sports and arts; Access to tech; Employability.
The council's cabinet member for children and young people Cllr Will Sweet explains: "We are aspirational for all our children. The council has listened to and worked with our schools' leaders to understand the educational, social and emotional needs facing children and young people as we move forward out of the pandemic.
"Even in the middle of lockdown, we have been hard at work behind the scenes, working in partnership with schools on an ambitious programme for local young people focused on lost time, lost opportunities and meeting changing needs. Over the coming months and years, we are committed to standing by our children, families and schools as we learn more about what they need to make up for the last year to become the best they can be.
"In that spirit, we are pleased to launch the five foundations of our council catch-up plan:
"First, tutoring and mentoring: working in tandem with the Government schemes to give children the access to quality teaching to plug any gaps in their learning and help them get back on track. We will be responsive and flexible adjusting our support as we learn more about the impact of the lockdown on young peoples' progress.
"Second, 'healthy minds'. We're committed to ensuring Wandsworth children get the help they need to feel happy and safe in tough times.
"Third, sports and arts. Lockdown has made it harder for children to do the things they love outside the classroom. We'll be making up for lost time to inject fun into Wandsworth.
"Fourth, access to tech. During lockdown we distributed more than 6,000 laptops to Wandsworth school children. We want to build on this achievement and support young people to use the tech effectively, creating tech-savvy young people of the future, who are confident to enter the digital world.
"And fifth, employability. We can't waste time for children nearing the end of their school years, so we're redoubling efforts to prepare them for whatever their ambitions are. Our plan demonstrates our commitment to ensuring every child has the ability to unlock their potential through access to an outstanding education no matter the challenges!"
A report to councillors at next week's education and children's service scrutiny meeting adds: "The pandemic has had far reaching impact on children and young people with disruption to education and missed opportunities for enrichment and social interaction. We know that this has impacted education outcomes as well as mental health and wellbeing, with a recent survey finding that 67 per cent of young people think that the pandemic will have a long-term negative effect on their mental health.
"These unprecedented challenges presented to families, schools and professionals has acted as a catalyst for Wandsworth's innovative and ambitious five-point recovery plan which aims to reach all children, and particularly those who are more vulnerable and were most impacted by the pandemic.
"Prior to lockdown we placed emphasis on addressing the attainment gap between pupil groups, in particular for boys, those eligible for free school meals and some ethnic groups, in particular Black Caribbean pupils which we knew persisted and this focus will remain. We also know that re-engaging pupils with education, particularly those who were already underperforming, will require a holistic approach that recognises both the changing needs of children and the changing world that they live in. There is now an opportunity not only to rethink the way in which the Local Authority works with its schools to raise standards but also to consider new and innovative ways to support the most vulnerable and disadvantaged in our communities.
"This is why Wandsworth's recovery plan covers five key areas that will make the most difference to children and young people as they begin to heal and move forward from the impact of the pandemic. Our ambition is to apply the learning from the last year to explore different ways of working and harness the rich range of resources in the area by being the best possible partner to all stakeholders."
To read the committee report which outlines the five steps in full detail please visit the council's website. An informative leaflet outlining the wide ranging support that will be offered to the borough's young people can be viewed here.