Council launches major new partnership for state and independent schools
Published: Monday, June 28, 2021
An innovative new partnership has been developed between state and independent schools in Wandsworth so they can learn from each other and help all children thrive post-Covid.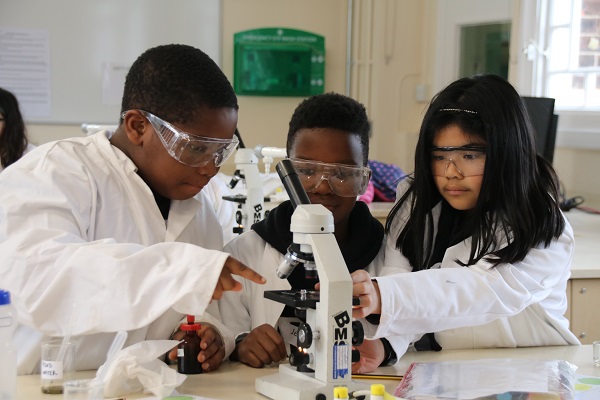 The Partnership will work to make resources and opportunities open to all the borough's young people, share good practice and improve teaching and learning across both sectors. 
The scheme formally launches this month and has already engaged with 48 state schools and 14 independent schools in discussions and planning. It will be discussed by members of the Education and Children's Services Overview and Scrutiny Committee tomorrow (June 29). 
In the autumn, around a thousand children will get the chance to engage with joint projects aimed at providing enriching experiences and raising aspirations through access to science, arts and sports facilities and to mentoring. 
The initiative will also provide professional development for teachers with a forum to share good practice and improve teaching and learning across the sectors.   
Future collaboration could include support with university applications, sharing playing fields and science labs and joint access to guests and motivational speakers.  
Richard Byrne-Smith, headteacher of Hotham School in Putney said: "It has been a pleasure to work with our colleagues in the independent sector to explore what we can do to bring our communities closer together as this demanding year comes to a close.   
"As educators, we all share similar values, and it has been deeply rewarding to build these new relationships for the benefit of our young people.  At Hotham, we are all excited to be a part of this art project which will be a shared expression of the experiences of our young people during the pandemic. 
Renata Joseph, headteacher of Saint Cecilia's School, added: "We're excited to work alongside primary, secondary and special schools, from all sectors in the local community.  One of our 4 Greats is to nurture Great Partnerships, that we hope will be an opportunity for young people to learn from and with each other." 
A system of cluster groups has been set up to make co-ordination easier. Suzie Longstaff, Headmistress at Putney High School, is the independent school lead for the Roehampton Cluster. She said: "This is a fantastic opportunity for our young people in Wandsworth to work together and take increased ownership of their community role. 
"The project very much reflects Putney High School's "It Starts with Me" ethos and expands this to "It Starts with Us". We're seeing more and more how our students are actively wanting to find ways that they can make a tangible difference and our involvement in this project provides an opportunity to do just that." 
A cluster of Battersea schools is taking part in Ascent, running on nine Saturday mornings at Emanuel School. This gives Year 5 children who are failing to meet national standards in literacy and maths lessons in core subjects and interactive sessions in science, sport and the arts taught by Emanuel staff and supported by Emanuel student volunteers. 
Lisa Irwin, head of community partnership at Emanuel School, said: Through consultation with our partner schools, we identified several interventions to help close the gap for pupils whose education has been hardest hit by school closures. Feedback on the impact in the classroom is extremely positive." 
Wandsworth Council cabinet member for education and children's services Cllr Will Sweet said: "We have some of the best schools in London, across the state and private sectors. This scheme will bring them closer together, allowing children in both sectors to collaborate and learn from each other.  
As a council we are determined that Wandsworth should have the best learning opportunities for young people anywhere in the country. Part of that is making the most of the amazing resources and community spirit we find in all our schools. I hope as many families as possible will benefit from our pioneering new partnership."