Wandsworth urged to keep Covid safety measures up after Monday
Published: Friday, July 16, 2021
With Covid-19 cases continuing to rise in Wandsworth, residents are asked to continue to be cautious as we enter Step 4 of the Government Roadmap this coming Monday (July 19).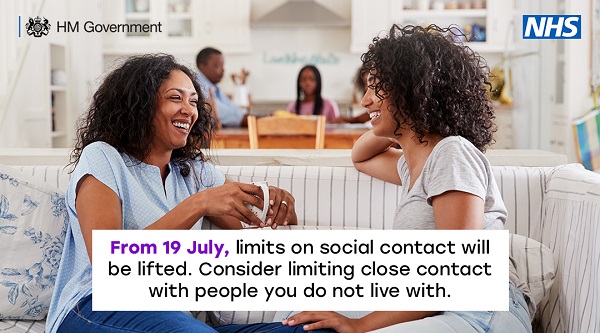 Most council services are returning to normal. However, Wandsworth Council asks that visitors continue to wear face coverings in all its buildings e.g. council offices, libraries and leisure centres. 
Reception screens will also remain in place across all services, and visitors to public venues are requested to wash their hands or use sanitiser before entering, maintain a safe distance and check in on the Test and Trace app.  Council staff will also continue to observe COVID-19 safety measures when you meet them.
Residents are asked to get vaccinated as soon as possible, with drop-in facilities widely available across the borough this weekend.
The council's health spokesperson Councillor Clare Salier, said: "We are all looking forward to our freedoms, and  pleased that more people will be able to visit our many shops, restaurants and pubs. However, we are clearly not out of the woods yet, so please take this next step with care." 
Shannon Katiyo, Director of Public Health for Wandsworth, added: "COVID-19 will continue to pose a significant risk after the mandatory restrictions are lifted. We cannot afford to ease up now on our combined efforts to fight the virus. 
We are seeing an increase in the percentage of tests returning a positive result in Wandsworth. We know there will be people who have COVID-19 and passing it on, but don't know it. Please take a lateral flow test to check that this isn't you. Do it routinely twice a week, especially before you meet other people.
Make sure to get both doses of the COVID-19 vaccine. There are plenty of appointments and walk-ins available across the borough. If you are vaccinated you are more unlikely to get seriously ill, be admitted to hospital, or to die."