Come and have a chat about your health - free lateral flow tests for front line workers
Published: Friday, January 27, 2023
The council's Community health bus is continuing to visit locations around the borough,
Tips to stay healthy and well, manage your weight, stop smoking and get your blood pressure checked for free.
Frontline workers can get pick-up free lateral flow tests. Get the COVID-19 and flu vaccines.
This work is part of our commitment to creating a fairer, more compassionate borough, taking action to reduce health inequalities.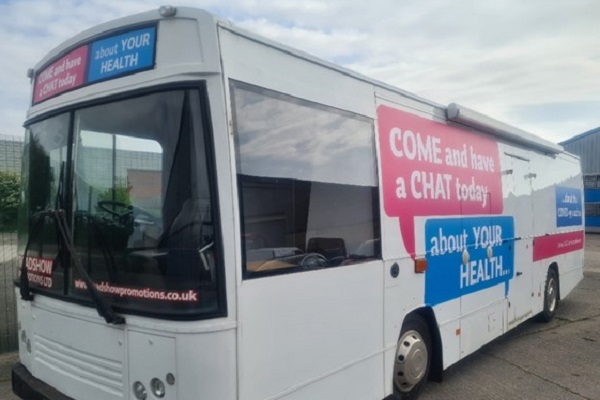 Visit the health bus,

Tuesday 28 February, 11am to 3.30pm, Tooting Leisure Centre, Greaves Pl, London SW17 0NE
Wandsworth Council is helping residents to remain healthy and well, by continuing to visit locations around the borough with a mobile, pop-up health clinic.
Our "Come and have a chat about your health bus" with our friendly and informed community health champions will be on hand, to answer questions about your health, along with NHS staff.
Whether you are looking for general health advice, for you or your family, or more information about accessing local health and wellbeing services, we'll be able to help.

A local pharmacist will be available to offer advice on a range of different areas including,
• Tips to stay healthy and active, as well as managing your weight
• Information about keeping your heart and brain healthy, including blood pressure checks
• Help to stop smoking
• Preventing and reducing your risk for a number of diseases, including diabetes, cancer and heart disease
• Immunisations for you and your family
• Information about the COVID-19 and other vaccines.
Councillor Graeme Henderson, cabinet member for health said:

"Tackling health inequalities is a key priority for our administration, which is why we are continuing to come out to you, so it's as easy as possible to access health services and advice locally.

"As a council, we have already taken action to create a fairer and more compassionate borough, supporting those most affected by the cost-of-living crisis, with a £5 million package to support local organisations, as well as initiatives like our school uniform support scheme to help struggling families pay for costly school uniform.

"We are working with local organisations, like Thinking Works, to provide support to residents with energy-saving tips and advice."
NHS staff will also be on hand to give you the COVID-19 vaccination if you haven't yet had it. You can also get the flu vaccine.
And if you have any questions or concerns about the vaccine, you can come along and have a chat about it, with no pressure to get the jab. For more information about local health and wellbeing services, visit the NHS webpages as well as what you can do to stay healthy and active visit the council's webpages.