Mayor is urged to lower speed limit to 20mph on his strategic network of red routes
Published: Thursday, January 21, 2021
The council is calling on London Mayor Sadiq Khan to join its campaign to boost road safety and improve local air quality by agreeing to implement 20mph speed limits on his network of red routes.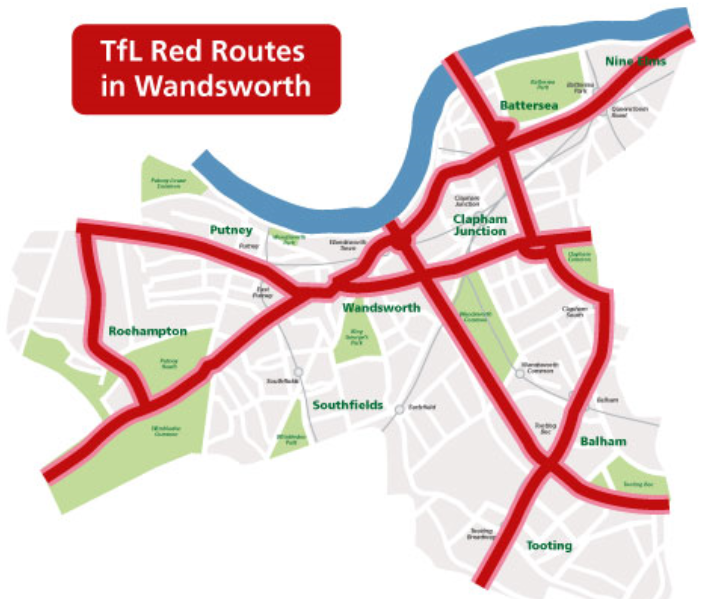 The council has already introduced a 20mph limit on all the roads it manages including all of its busiest A-roads.
But on the borough's main trunk roads – or red routes – which are all controlled by the Mayor's transport organisation TfL - speeds of up to 40mph are permitted.
Now the council's transport spokesman Cllr John Locker has written to the Mayor urging him to support the town hall's efforts.
If he agrees, this could see lower speed limits introduced on the A3, A24, A205, A214, A306, A3205 and A3220. This list includes West Hill, Battersea Rise, Latchmere Road, Trinity Road, East Hill, Swandon Way, Battersea Park Road, the Upper Richmond Road, Balham High Road, the Upper Tooting Road, Tooting High Street and all of the Wandsworth one-way system.
Cllr Locker said: "I've written to the Mayor asking him to commit to delivering 20mph on Wandsworth's red routes as these are the only roads left in the borough which allow faster vehicle speeds.
"We support 20mph limits because we believe they deliver a range of key benefits. Lower speeds mean safer streets and can encourage other forms of sustainable transport like cycling and walking. It also means quieter streets which are a welcome boost for people's quality of life.
"Accidents involving collisions between pedestrians and vehicles are three times less likely to be fatal if the speed of the impact is 20mph compared to 30mph. Studies have shown that at 30mph, 55 per cent of collisions result in a fatality while at 20mph this figure plummets to just 17 per cent.
"It also delivers real improvements in local air quality too. A study by Imperial College found that diesel vehicles with engines of between 1.4l and 2.0l produce fewer harmful emissions at 20mph than at 30mph while smaller petrol and diesel engine vehicles both generate fewer particulates when driven at this lower speed.
"Our first 20mph zone was set up in 2017, and initially covered only residential side streets. Since then it has been expanded to include all of our busier A and B roads. We have seen a reduction in vehicle speeds on these roads so drivers are obviously getting the message to slow down and the vast majority are doing just that.

"Now we need the Mayor to step up to the plate and introduce the scheme on TfL's red route network. These are London's busiest roads and suffer the worst impacts of air pollution. Reducing the speed limit on these strategic roads in Wandsworth would provide huge relief to our residents, especially those who live on these main roads.
"We sincerely hope the Mayor heeds this important message and takes the action we are calling for."
Enforcement of the borough's 20mph speed limit is carried out by the Metropolitan Police, with the council working in support of their efforts. Any revenue generated by speed fines goes direct to HM Treasury - not the town hall.
Last year the council declared a climate emergency and set targets to become carbon neutral by 2030 and a zero-carbon organisation by 2050. To find out more visit the council's website.