Wandsworth welcomes free school meals plan for all primary school children
Published: Monday, February 20, 2023
The plan complements Wandsworth's £5m Cost of Living response which is the biggest in London   
All children will be offered a nutritious free school meal alongside other Cost of Living support in Wandsworth 
The initiative will save families across the borough around £440 for every child over the year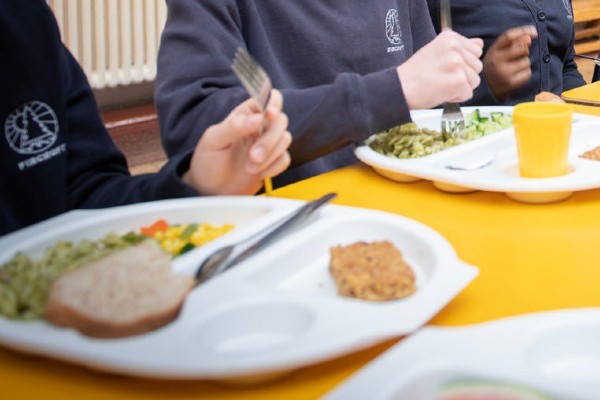 Wandsworth Council Leader Simon Hogg today joined London Mayor Sadiq Khan at a Tooting school to welcome new plans to offer free school meals to all primary school pupils for one year.
Councillor Hogg met the Mayor of London as he visited his old school Fircroft Primary to officially launch the £130m scheme which will help to support families during the Cost of Living crisis.
The free school meals scheme will run on a universal basis in London over the next academic year and aims to boost take-up among families who need the help most.
Councillor Hogg said: "The Mayor's scheme will run alongside our own Cost of Living response which is helping local people through this crisis and beyond.
"We are committed to delivering a fairer, more compassionate and more sustainable borough and as the Cost of Living crisis bites, local people need our support more than ever.
"This plan to provide all pupils with free meals will help parents across the borough who are worried about how to afford food for their children. It will also stop children going hungry in the classroom so I'm really pleased to see the Mayor taking action on food poverty and intervening in this way."
'Free school meals can make a life-changing difference'
Councillor Kate Stock, Wandsworth Council's Cabinet Member for Children, said: "Providing free, healthy and nutritious school meals will potentially save families hundreds of pounds a year and make a real difference to people who are struggling to make ends meet.
"Together with the council's £5m Cost of Living support package, this helps provide a lifeline to families and children who are in desperate need of additional support. Free school meals can make a life-changing difference to children who are at risk of going hungry."
"That's why Wandsworth schoolchildren at twenty of our local primary schools are also set to benefit from free breakfasts through the council's Schools Food Strategy to tackle child hunger."
Wandsworth is working with the charity Magic Breakfast to run a year-long, council-funded pilot scheme which will provide a healthy breakfast for free to any child who needs it. It's part of the council's wider Schools Food Strategy which is being developed alongside young people, families and other organisations including the NHS and voluntary groups.
Find out more about Wandsworth Council's Cost of Living support for families