Write Together project connects communities
Published: Thursday, February 18, 2021
The council has teamed up with Battersea Arts Centre for 'Write Together,' a project hoping to connect people and spread kindness during the pandemic.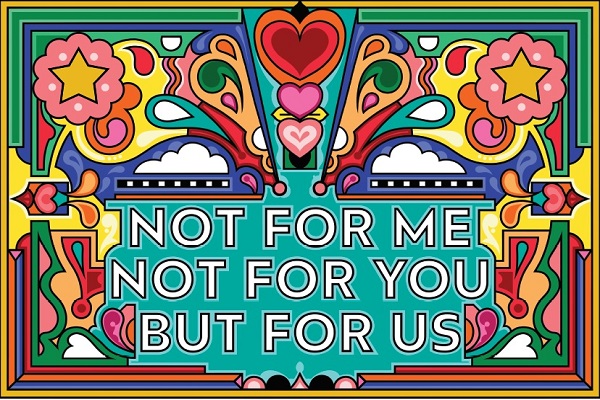 Write Together provides free kits that include mindful colouring, creative 'how to' guides, and a blank template that can be used to write a friendly message to a neighbour in Battersea and Nine Elms.
With support from Wandsworth Council and Enable Leisure and Culture, they are available for free to anyone living in Wandsworth, particularly to those residents who may be feeling isolated or vulnerable.
The pack includes beautiful designs from illustrator Rebecca Strickson, created especially for Battersea Arts Centre, which uses Battersea's motto, "Not for me, Not for you, But for us".
The kits are aimed at adults, but suitable for ages 14+. All letters will be sent back to Battersea Arts Centre and then passed on to someone else in the community. The letters will be completely anonymous, and you can opt-in to receive one too.
This initiative follows the successful 'Create & Learn Playkits' by Wandsworth Council, Battersea Arts Centre, and local partners to support everyone in the community to be creative. Last year, nearly 6,000 kits were distributed to school children across Wandsworth so all families could have access to creative materials during the coronavirus pandemic. The project has just won 'Best Arts Project' in the NCA's Heart's for the Arts Awards 2021.
Wandsworth Council's arts and culture spokesman Cllr Steffi Sutters said: "We were delighted to support this project because it's a great way to encourage people to have fun, be creative, tackle isolation and make new connections all at the same time. We are encouraging people to share their efforts via social media, so I look forward to seeing what they come up with."
Christie Hill, Producer at Battersea Arts Centre said: "We are all having to deal with being kept apart and we know how hard lockdown has been for many people. So we wanted to provide something that could support our local community to feel less isolated, through their own creativity. These packs have been made by brilliant artists.
"There's an illustration to colour in, because doing something creative can help reduce anxiety. And an opportunity to write a letter to a local neighbour – to help connect people and share support. We hope this supports many adults in the area, especially those who are feeling isolated or struggling."
The kits are free and postage is included. The project runs from mid-February until late spring, so there is plenty of time to sign up.
Visit the Battersea Arts Centre website to order your pack.
If you are an organisation, charity or connected to a group of people who you think would benefit from taking part, please contact Lydia or Amy at writetogether@bac.org.uk or visit the Battersea Arts Centre website to use the group order form.
Share photos of your coloured illustrations on social media by using the hashtag #WriteTogetherBAC