Schoolchildren create public art
Published: Wednesday, February 3, 2021
Artist Simon Periton has teamed up with students at Brandlehow Primary School to create a new contemporary public artwork in Wandsworth.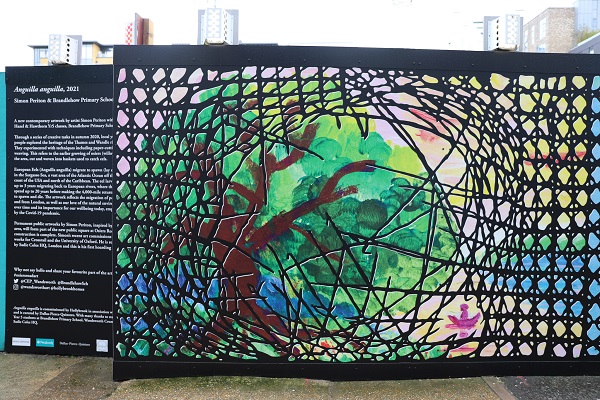 Anguilla anguilla was created in collaboration with Year 5 students and has been installed along a 27m hoarding on Osiers Road, Riverside Quarter.  
Hazel and Hawthorn classes were set a series of creative tasks by Simon through digital workshops during autumn 2020. The nine- and ten-year-olds explored the heritage of the Th­ames and Wandle rivers and learned techniques including paper-cutting and weaving.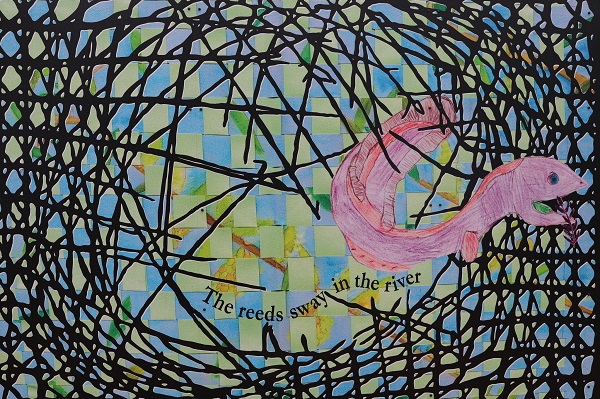 The work refers to the earlier growing of osiers (willow) in the area, cut and woven into baskets used to catch eels. European Eels (Anguilla anguilla) migrate to lay eggs in the Sargasso Sea. The larvae take up to three years to migrate back to European rivers, where they spend up to 20 years before making the 4,000-mile return journey to spawn. Th­e artwork reflects the migration of people to and from London, as well as the importance of the natural environment for our wellbeing.  
The work was commissioned by Hollybrook in association with Peabody, with support from the Wandsworth Council Arts and Culture Service.  Permanent public artworks by Simon Periton, inspired by the local area, will form part of the new public square at Osiers Road when construction is complete.