School Streets will operate again from March 8
Published: Friday, February 26, 2021
With schools set to reopen to all pupils on March 8 as the national lockdown eases, residents are being reminded that the borough's network of School Streets will be coming back into operation.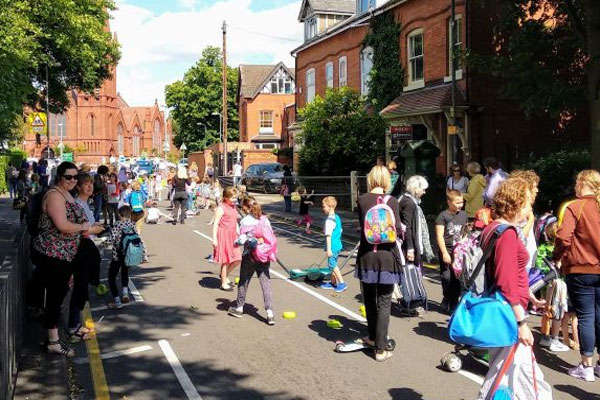 There are 19 School Streets across the borough. The initiative sees the roads containing school entrances turned into traffic-free zones when pupils arrive in the mornings and leave in the afternoons.
Their introduction is part of the town hall's efforts to boost road safety, encourage alternative forms of travel and help improve air quality.
Motorists are alerted to the scheme by road signs displayed at the entrances to the School Streets which give the operating times. At some locations retractable bollards and temporary barriers are used to further deter vehicle access.
But at some local schools cameras are now being installed and drivers filmed flouting the scheme can expect to receive a penalty charge in the post.
The primary schools where cameras are being used are Earlsfield, Furzedown Penwortham and Hillbrook.
Residents and businesses who live and work on a School Street are given access as are Blue Badge holders and some others who are exempted.
Vehicles already parked in a School Street before its hours of operation come into effect can also leave without being penalised or impeded. The schemes do not operate in the school holidays or at weekends.
According to research carried out at the end of last year by two leading environmental lobby and pressure groups, Wandsworth's tally of 19 school streets is the third highest number in inner London.
Data collated jointly by campaign groups Mums for Lungs and the Healthy Streets coalition - a group of transport, health, road safety and environment campaigners – found that Wandsworth has the eighth highest number of School Streets across all 32 London boroughs and the City. In inner London only Islington and Hackney have a greater number of schemes.
For more information about Wandsworth's School Streets, where they are located, their hours of operation, and who may be eligible to apply for an exemption, visit the council's website.