Savona residents scoop grant for gardening packs
Published: Thursday, February 18, 2021
Residents of the Savona Estate in Nine Elms have been awarded a grant from the Wandsworth Grant Fund for their 'Sown from Home' project.
They will be provided materials and the knowledge to grow plants and vegetables at home, which will then be planted out in public locations across the Savona Estate under the guidance of knowledgeable members of staff.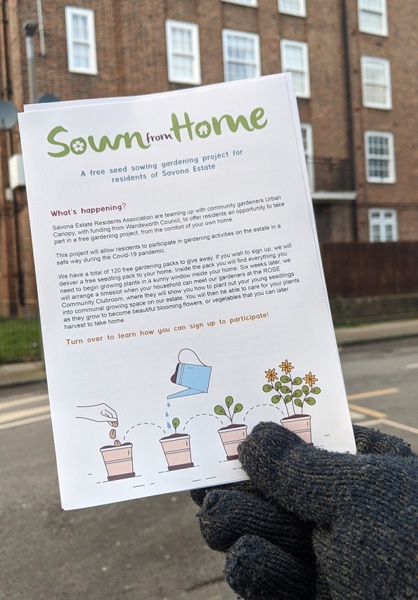 The Covid-secure 'Sown from Home' project also aims to tackle lockdown loneliness and boredom experienced by young families and elderly residents in the estate.
The project will be delivered in partnership with Urban Canopy, who are experienced in running community and educational horticultural projects in public spaces. Previously, they have worked with neighbouring estates Carey Gardens and Patmore Estate by holding weekly gardening sessions and helping older residents with their gardens whilst improving communal green spaces in the area.
The hope is that enabling community and voluntary group participation in local green spaces will foster the growth of more communal gardening in future.
Urban Canopy plan to run workshops for residents about how to plant out their seedlings when the time is right so everyone can enjoy the fruits of their labour in the summer months.
As the seedlings need to grow in time for planting out workshops taking place in mid-April, leaflets have been delivered to every household on Savona Estate with further information on how to sign up and receive a free seed sowing pack so residents can get planting straight away.
Residents can let Urban Canopy know their preference for a vegetable or flower pack, and whether you'd like resources for children included.
Residents can reply by text on 07856 680469 or by email to savonagardening@gmail.com before Friday 19 February to claim a pack. All packs will be delivered contact-free the following week.
The Wandsworth Grant Fund provides funding for a range of projects that support the arts and the environment and that help young people and other residents stay healthy and reach their potential.  The Fund currently has an additional emphasis on projects that help the borough's Covid-19 recovery. The next date for applications is April 12. Visit wandsworth.gov.uk/WGF