Safety measures in place for return of pupils to classrooms
Published: Friday, February 26, 2021
With schools scheduled to reopen fully on March 8, parents are being reassured that classrooms are safe places for their children and for teaching staff.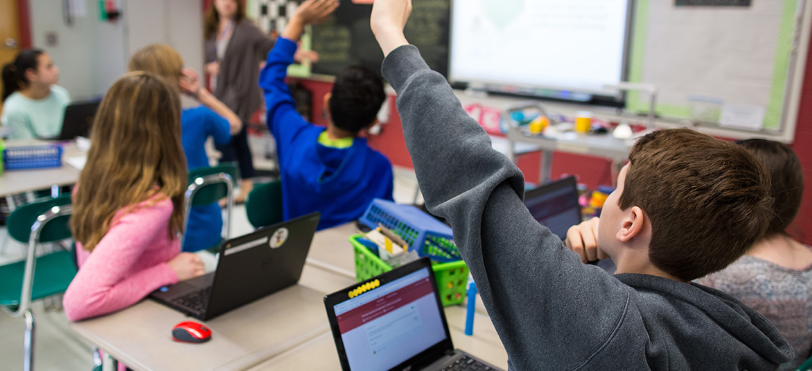 All Wandsworth schools are conducting rigorous safety checks, risk assessments and meticulous covid testing procedures to ensure the safety of children and staff.
Primary school staff will continue to take two rapid COVID-19 tests each week at home and secondary school and college staff will also be provided with two tests to use each week at home
In line with Government guidelines all secondary school and college students will be asked to take three Covid 19 tests as they return to the classroom.  After the initial programme of three tests in school or college, students will be provided with two rapid tests to use each week at home. Secondary schools are also being offered medically qualified agency staff to help support them as they carry out this initial testing programme.
All staff at private, voluntary and independent nurseries will have access to tests to use twice weekly at home from the following week, building on the testing already available to maintained nursery schools and school-based nurseries. Information is being provided directly to the nurseries with instructions on what / how to do the testing.
Special schools have been delivering testing for all staff and students since reopening last year and this will continue. This has also been supported through the use of specially trained medical agency staff to administer the testing and this support will remain in place until at least March 31 at which point testing can be carried out at home.
Town hall education staff are in constant and ongoing communication with headteachers to offer any additional resource they may require in delivering the tests. The council is also working closely with schools in carrying out appropriate risk assessments for teaching staff who are clinically vulnerable.  
Council officers are also having weekly meetings with colleagues from Public Health and the Regional Schools Commissioner to ensure we have up to date guidance and can raise headteachers' feedback with Government education officials in order to ensure the most rigorous health and safety standards.
These measures are enhancements of the full range of procedures put in place during earlier stages of the pandemic which saw the introduction of a nine point plan for the safe reopening of schools. Almost all of the borough's schools have remained partially open throughout lockdown to provide schooling for the children of key workers and those with vulnerabilities.
A key element of this plan was to ensure schools had sufficient stocks of protective equipment (PPE) and sanitising hand gel. To date the council has distributed nearly two million pieces of PPE including 523,000 masks, 261,000 aprons, more than 1,500 visors and 4,500 litres of hand gel. These figures cover schools and care homes in the borough.
In response to the council's offers of support and assistance, Jackie Valin, Executive Headteacher at Southfields Academy Trust said: "At Southfields we feel fully supported by the local authority. They have listened to our needs and have been available to support us in any way they can."
Education spokesman Cllr Will Sweet said: "I'm absolutely delighted that schools will be reopening in just over a week's time and that children will be able to return to classrooms.  Returning to a semblance of normality is key for their education, personal development and their mental well-being.
"Parents can rest assured that comprehensive steps have been taken to ensure classrooms are safe for their children. The schools have undergone rigorous deep cleans and a range of measures have been put in place to ensure rigorous testing and safe distancing.
"Praise must go to our teachers and headteachers who have been working tirelessly to ensure it is safe for pupils to return
"What is important now is for the children to get back to learning and enjoying their days at school as we all begin the path back to normality."