Plans unveiled to protect historic gem from flooding
Published: Friday, February 19, 2021
The council has unveiled plans to protect a unique historical highway in Putney from flooding and the effects of excessive rainfall.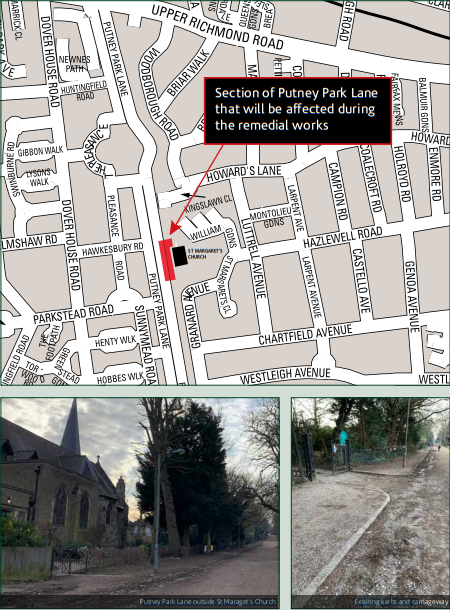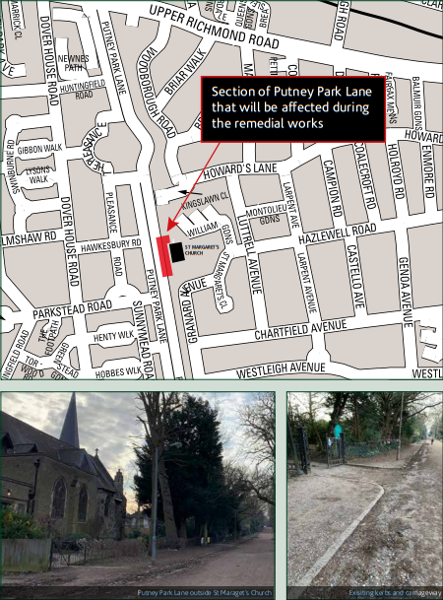 The plan is to address problems of flooding and pooling of water outside St Margaret's Church in Putney Park Lane – which some believe to be Putney's oldest stretch of public highway. The flooding regularly prevents worshippers from attending church services.
The lane is an unmade, untarmacked tree-lined thoroughfare that connects Putney Lower Common and Putney Heath. It is thought to be a remnant of a medieval lane that once provided access to The Pleasance, the site of the Archbishop of Canterbury's hunting lodge.
By the early 18th Century it had been laid out as a formal tree-lined drive for a house built on the site of the former hunting lodge - and later became the access to a number of grand houses built here including Granard House, Putney Park House and Dover House.
It has a distinctly rural feel and is a site of Local Importance for Nature Conservation.
The proposals are to improve drainage on the approach to the church and also replant the grass verge with wildflowers. Replacement kerb stones will also be installed where they have gone missing or are damaged. The plan is to commence these important maintenance works in the summer.
Environment spokesman Cllr Steffi Sutters said: "We are lucky in Putney to have such a unique and historically important local feature that probably dates back to medieval times and has been largely unchanged since the early 18th Century. It is much loved by people in the area who treat it with great care and respect.
"That is why we have carefully drawn up a set of plans to deal with its flooding issue that are sensitive and sympathetic to its unique status.
"The lane is an important and treasured local gem and we want to make sure that the works we carry out respect and preserve its feel and appearance."
For more information people can email parks@enablelc.org or call 07725 114053 before March 21.