Local Libraries Offer A Chance to Talk
Published: Friday, February 19, 2021
At a time where loneliness and isolation levels are rising as a result of the pandemic, Wandsworth Libraries are introducing a new service to help support residents who are in need of someone to talk to.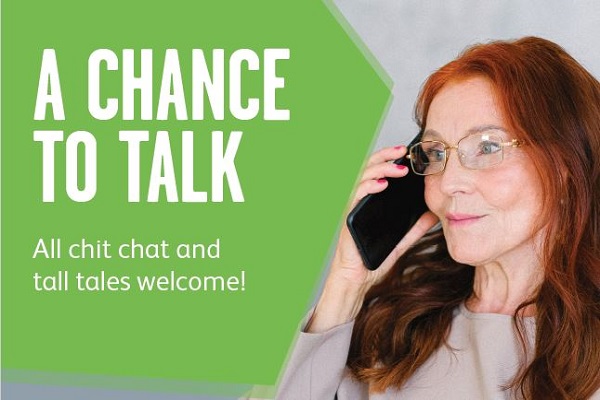 If you, or anyone you know, is feeling isolated or alone, the new A Chance To Talk scheme is now available. A time will be arranged for someone from the library team to call you can have a chat about a topic of your choosing.  
If you're not a book lover, that's okay. The team are around to talk about current affairs, sport, gardening or anything else that you're interested in.
"I am very proud to be part of a team that is committed to helping people who are feeling isolated and alone" Patrick Malone, Southfield librarian and manager/creator of the scheme said. "I hope and believe that the programme can give people a sense of optimism and confidence. When we stop talking we lose our confidence and our sense of fun, this programme is here to help people get those back."
He continued, "We started the scheme a few weeks ago and we would love to have more callers. We can be flexible with the times because we've had such a good response from the staff. People can call or email me, and we'll have a chat about when it will work best and get it booked in.
"We are a brilliant and friendly team so I am hopeful that people will reach out to me and won't be shy because there's nothing to be scared of, all are welcome."
To find out more about the programme please email Patrick.malone@gll.org, call Southfields Library on 020 8780 1945 or ask at your local Wandsworth library.
Wandsworth Libraries, managed on behalf of the council by GLL, are also providing a range of other services throughout lockdown. They are currently open for pre-ordered items and a range of online events continue to be run, including baby rhyme time and children's story times. Visit the Wandsworth Librarians Facebook page. 
Cllr Steffi Sutters, cabinet member in charge of libraries said: "The A Chance to Talk scheme is another example of the wonderful work our library team does. At a time when many councils are contracting their library services, Wandsworth is expanding the service into new areas, offering support to the community in so many ways.  Some such as this are designed to tackle those feelings of loneliness and isolation that many of us have experience during the pandemic. Just knowing someone is there ready to chat is wonderful."
There are a range of other services available to Wandsworth residents to help them strengthen and protect their mental health, including:  
Wandsworth residents are also encouraged to sign up to the  Zero Suicide Alliance free online training so they can recognise when someone might be at risk and feel confident providing support.