Cut your work commute with Nine Elms and Battersea jobs
Published: Friday, February 19, 2021
More jobs are available this year in Nine Elms and Battersea as the area continues to develop and new Northern Line Extension tube stations are due to open in the autumn.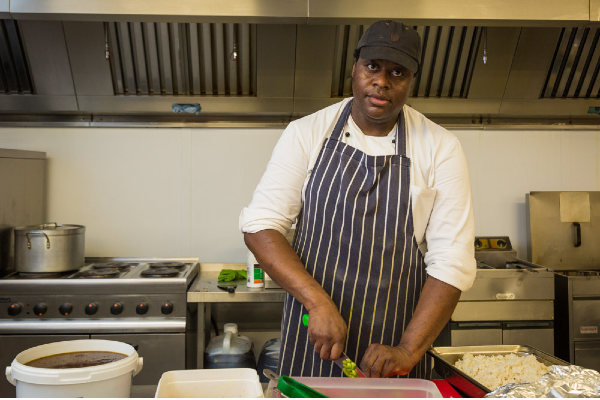 The pace of development brings hundreds of jobs for local people, not just in construction but also in all the other work which supports this, as well as employment with new businesses moving to the area.
Wandsworth Council's Work Match jobs service have already got 893 local people into work or apprenticeships at construction sites and in the commercial sector in Nine Elms and Battersea including retail, healthcare, facilities and estates management, leisure, hospitality and transport.
Local resident Gabriel Bright lives within a few minutes' walk from Battersea Power Station and wanted to be able to work close to home. He started work as a Chef in a construction site canteen for the Power Station development after attending a Battersea Power Station jobs fair promoted through Work Match.
Gabriel then moved on to work in the site canteen of the Northern Line Extension feeding the construction and engineering workers who are building the new tube line and stations at Nine Elms and Battersea Power Station – just a short stroll to work from his home.
Gabriel said: "It is interesting to be part of the project because this place has a big history. The job is suitable because I am a father and the role is flexible enough for me to take care of my child, especially because I have a very short commute! Thank you to everyone who helped me get this job."
Cllr Aled Richards-Jones, Wandsworth Council's Economic Development, Skills and Employment spokesman said: "It's fantastic to hear that Gabriel and hundreds of other residents have already taken up jobs right on their doorstep – and those opportunities will just get better as the development of Nine Elms and Battersea Power Station continues.
"We are looking forward to working with more businesses moving in over the next year as the area changes from former industrial land to a growing neighbourhood where more people can live and work close by."
How to find opportunities for you
Construction vacancies currently available through Work Match include painter, carpenter and dryliner apprenticeships, as well as jobs for scaffolders and general labourers. At businesses nearby, a part time delivery driver is sought for an e-cargo bike company and hospitality jobs are available in bars and restaurants.
Wandsworth Council's Work Match service publishes lists of jobs open for applications, with apprenticeships and training also available to get you ready for work. Visit Wandsworth Work Match website
Battersea Power Station's new dental practice, White & Co., is recruiting for dental healthcare staff and Paul Edmonds Hair & Beauty Salon located at the foot of the Grade II* listed Power Station is looking for a hair and beauty apprentice. Visit BASE website to find out more.
If you are interested in careers in retail, hospitality, estate management, leisure and business at the Battersea Power Station development, you're invited to sign up to the BASE talent pool at www.baseskillsacademy.co.uk to be informed about vacancies as they become available.
Across the Vauxhall, Nine Elms and Battersea opportunity area, development partners are building 20,000 new homes, offices, commercial, retail and cultural spaces with the creation of 25,000 new jobs.