Families can help choose Battersea Park's new look toddler and junior playground
Published: Tuesday, December 1, 2020
Young children and toddlers could soon have an exciting new playground to enjoy in Battersea Park under council plans to improve its existing play space.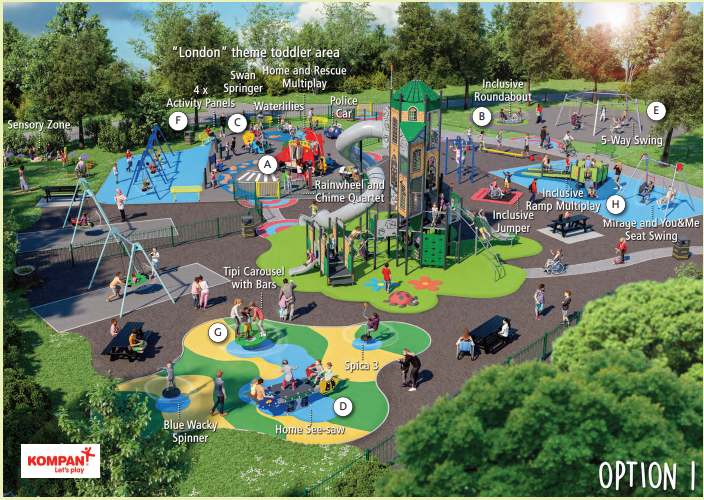 Battersea Park's junior and toddler playground is already one of the most popular and well-used play areas in the borough and the council's plans would see it significantly upgraded with a host of exciting and challenging new play equipment.
Parents and children are now being asked for their views on three different designs for the playground with the most popular choice implemented.
The three options can be viewed here and also at the consultation page. To choose your family's favourite take part in the consultation between now and January 25.
The new equipment has been designed to be appropriate for the age ranges of the children who use the playground, which offers a section for toddlers and children under the age of eight and a separate junior section for slightly older children. The adjacent and separate adventure playground is designed for children aged eight and upwards.
Parks and open spaces spokesman Cllr Steffi Sutters said: "These are three wonderful designs for children and their families to choose from and I would urge everyone who uses the playground in Battersea Park to get involved and tell us which design they prefer and help choose the best one.
"The council takes pride in providing really top-quality playgrounds and play facilities for our younger residents which is why we have invested significant sums in refurbishing so many in recent years."
Recently upgraded playgrounds in the borough include: Chivalry Road which saw its playground revamped shortly after its all-weather ball games area was refurbished; Boutflower Road, Upper Tooting Park, Godley Gardens, Swaby Gardens, Leaders Gardens, Falcon Park and Furzedown Rec, plus another playground in Battersea Park.
Funding for these improvements has come from the Wandsworth Local Fund (WLF), which comprises money the council has levied on developers to help pay for community and local neighbourhood infrastructure improvements across the borough.
Over the past three years nearly £8m in WLF money has been spent on local initiatives including schemes to support safer communities, employment opportunities for young people, better pavements and improved parks and playgrounds.
Once chosen the final design will be submitted for planning approval.