Thanks given for homelessness help
Published: Tuesday, August 31, 2021
SPEAR, which provides outreach work to homeless people on behalf of Wandsworth Council, has thanked its partners for their excellent work supporting rough sleepers during the pandemic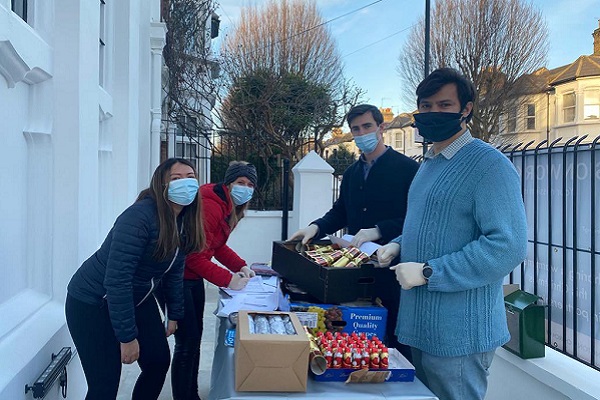 The homelessness charity is commissioned by the council to find a safe home for everyone sleeping rough or without somewhere secure to live.  
Wandsworth Council invests more than six million pounds in homeless preventative services each year, including the outreach work provided by SPEAR, and in 2020 it prevented 286 vulnerable families from becoming homeless and accommodated more than 359 rough sleepers. 
SPEAR's outreach Workers were able to engage with many entrenched rough sleepers who had previously not accepted help, or people who had recently found themselves homeless due to the impact of the pandemic on precarious living environments. 
SPEAR worked with many partners during this time, but there were two organisations that SPEAR partnered with who went above and beyond with the provisions they offered - Enabling Assessment Service London (EASL) and Lamington Group. SPEAR's Integrated Outreach Manager, Lisa Moodie presented them with a Partner or Provider of the Year award. 
EASL is a team of highly qualified and experienced mental health professionals. They provide mental health assessments as well as structured advice, training and support for staff who support people experiencing homelessness.  
Lamington Group provides serviced apartments of outstanding quality, but during the pandemic offered their facilities to Richmond and Wandsworth councils to house vulnerable rough sleepers. As the pandemic eases and clients are moved on to more permanent accommodation, Lamington Group have offered a number of their long-let apartments, to help some clients get back on their feet. 
In 2020 Wandsworth Council approved an action plan for rough sleepers to get them off the streets and into sustainable tenancies, including ongoing support for health issues, employment, further education, immigration (including support with applying for Settled Status) and benefit advice.  
It has successfully bid for money from the Government and the GLA to ensure this support can continue and to provide extra supported housing.  
As well as SPEAR, the council works with a range of organisations to support rough sleepers, including the NHS, drug and alcohol services, Citizens Advice Wandsworth and the South West London Law Centre.  
"We remain committed to ensuring all rough sleepers are given the offer of accommodation and/or support," said cabinet member for housing Cllr Jonathan Cook.  
"We are grateful to SPEAR and their partners for going above and beyond during the pandemic, and would like to thank them and all the organisations we work with to support this vulnerable group of people."