Share hope in Nine Elms
Published: Wednesday, May 20, 2020
People living in Battersea and Nine Elms are being encouraged to create their own messages of hope this month that can be shared with the whole community.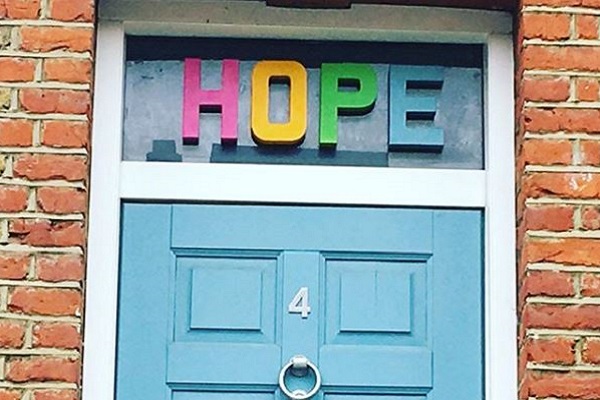 Wandsworth Council is supporting the project being led by the Nine Elms Arts Ministry, which is also part of this year's special Wandsworth Arts Fringe programme renamed WAF in Your Living Room.
#HopeInNineElms is online this year, following on from the successful Hope Pop-up at the outdoors Nine Elms Pavilion last year.
All you need to do is
Think of a message of hope in less than 15 words
Decorate it in a square shape using any materials you have
Take a photo of your message
Share on your social media using the hashtag #HopeinNineElms
Upload via hopeinninelems.com
Some of the images will be chosen to feature in a short film and they will all be brought together in one big 'celebration of hope' when people are able to gather together again. You are also encouraged to put your image in your window so your neighbours can see it.
Find out more in this short video made by Chocolate Films and supported by Wandsworth Council 
Speaking about WAF In Your Living Room, Wandsworth Council's Cabinet Member for Community Services and Open Spaces, Councillor Steffi Sutters, said: "We could have just cancelled this year's WAF, but we highly value our artists and cultural organisations and decided that helping them find new audiences during this challenging time is a vital part of the council's work.
"We're lucky to have an incredible pool of cultural talent here in Wandsworth, as well as theatre groups, venues and other organisations that help make this borough such a great place to live, and we are determined to actively support them.
How to tune in to WAF In Your Living Room:
Live performances are being streamed daily between 8–24 May on the WAF website and social media channels. Additional pre-recorded events and creative activities will continue to be added throughout the lockdown period.
WAF has partnered with South West London's radio station Riverside Radio, who are broadcasting exclusive content from the festival and interviews with artists. Tune in from 7pm on Saturday 23 May for a special best of WAF edition.
The Nine Elms Arts Ministry is an emerging community of artists and creatives exploring arts, spirituality and social justice. Find out more at www.hopeinnineelms.com or follow them on Instagram & Facebook @nineelmsartsministry and on Twitter @9ElmsArtsRev.