Green light for five Wandsworth 'School Streets'
Published: Friday, May 29, 2020
Parents and pupils at five of the borough's primary schools will soon enjoy traffic-free drop-offs and pick-ups after the council fast tracked plans to introduce "School Streets" schemes at their entrances.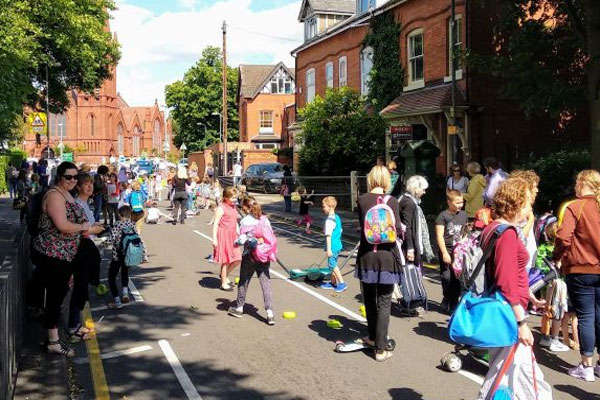 The council has brought forward plans to introduce "School Streets" at the five primaries as part of its response to the Coronavirus pandemic and the need to maintain safe distancing, coupled with the imminent return of children to classrooms.
The five schools are Penwortham, Hillbrook, Alderbrook, Earlsfield and Furzedown. All five will see the measures introduced on Monday, June 8. The original plan was to introduce them in September at the start of the school year.
Another 16 local primary schools are also being assessed to see if they could join the scheme.
The council supports "School Streets" at appropriate locations to reduce traffic, encourage safer and healthier travel to and from schools and help improve air quality levels.
The initiative sees the roads containing school entrances closed to vehicle traffic when pupils arrive in the mornings and leave in the afternoons. Temporary barriers are likely to be used along with signs warning drivers that they cannot enter these streets placed prominently on all approaches.
Over the longer-term the schemes could be enforced with cameras and/or retractable bollards.
Residents and businesses who live and work on a School Street will be given access as will Blue Badge holders. Vehicles already parked there before the hours of operation come into effect will also be able to leave without being penalised or impeded.
The schemes will not operate in the school holidays or at weekends.
The council's schools and education spokesman Cllr Will Sweet said: "We already had plans to introduce this measure at these five primary schools but are accelerating the implementation to give more room to parents and children so they can more easily maintain safe distancing when they arrive and leave school each day.
"We believe this will create a much safer and healthier environment for children on their journeys to and from these five schools."
And Wandsworth's cabinet member for transport Cllr Paul Ellis added: "Reducing the impact of vehicle traffic and encouraging parents and children to walk or cycle to school are key priorities for the council.
"We certainly anticipate a beneficial impact on air quality standards around these schools. As well as an absence of passing traffic there will be a total reduction in vehicle idling outside school gates, which will be a major benefit to the children.

"And we will now be carrying out further investigations at another 16 schools that have either submitted requests for their own school street or been identified as having the potential to join the scheme."