Standing Ovation for Wandsworth Music's Online Services
Published: Tuesday, June 23, 2020
Wandsworth Music is the largest cultural education provider in the borough, teaching more than 7,000 children and young people every year in Wandsworth Schools and through the Wandsworth Music Academy.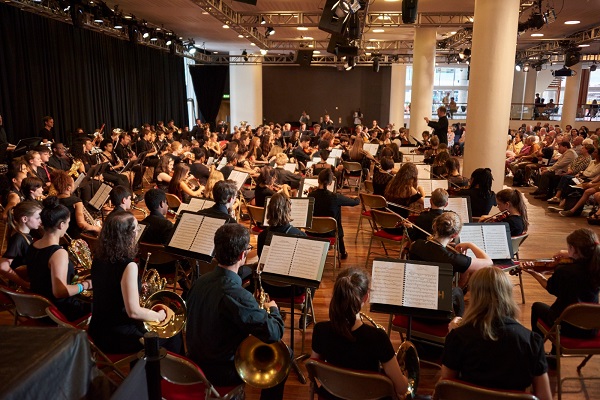 Despite launching Wandsworth Music as an independent charity in at the beginning of lockdown and being unable to conduct face to face tutoring, Wandsworth Music's team of dedicated staff and tutors moved all music provision onto online learning platforms within two weeks. 
Moving classes online ensured that more than 450 children and young people could continue their musical progress and retain a sense of normality and structure during this difficult period.
Wandsworth Music has also developed online learning platforms to ensure that programmes in schools could continue to be accessible to children in their own homes - engaging approximately 3,000 children and young people through whole class instrumental programmes, curriculum music and singing lessons this term.
Cllr Will Sweet, Cabinet Member for Children's Services said: "We are thrilled that Wandsworth Music has successfully become an independent charity and provided the children and young people of Wandsworth with a space for creativity and learning during this time. When schooling time has decreased and there is so much uncertainty, it is important to retain a sense of continuity and allow young musicians to continue doing what they love."
"We are very lucky as a community to have a musical service with such dedicated and talented staff. Wandsworth Music has adapted remarkably well to the circumstances and the young musicians in Wandsworth are benefiting greatly from a well organised and thriving service. It is very encouraging to see that students and teachers enthusiasm for music hasn't waned during the pandemic."
Cllr Sweet added: "With reduced schooling and potential for mental health issues, our youth have also been hit hard during COVID-19.  Music is a fantastic way to improve mental health and wellbeing, and in that respect, we encourage all of young Wandsworth and their carers to look into Wandsworth Music's services and discover instruments and lessons that can improve both cognition and mental wellbeing."
Wandsworth Music tuition is currently delivered online via Zoom conference calls and students can apply for individual or paired lessons. The lessons are both instrumental and vocal and can be booked throughout the day.
For more information on Wandsworth Music visit https://wandsworthmusic.co.uk/
For advice and helpful links on mental health and wellbeing visit our dedicated page.
Here are some links to Wandsworth Music's online performances: