Parks Police help residents to enjoy parks and open spaces
Published: Friday, June 12, 2020
In May, we spoke to Parks Police Constable, Selina Hill, to find out about what life in lockdown has been like for her. This week, we catch up with her again, as lockdown measures are eased, and the Parks Police team continue to help local residents enjoy Wandsworth's many parks and open spaces.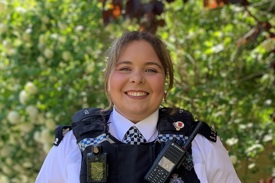 "I'm normally out in the parks by 7am. There are two shifts a day so the parks police will be out until 11pm. Myself and my partner are here to help people make the most of their visit to local parks and commons; to enjoy the outdoors and stay safe at the same time. ___________________________________________________________________
Using the parks safely and responsibly
With warm weather forecast for the weekend, people are reminded of the rules that are designed to keep us all safe when using parks and open spaces,
Please remember to,
Keep two metres apart from others and respect other people's space.
Meet or exercise in groups of up to six people, from different households, as long as you stay two metres apart.
Keep your dog on a lead at all times.
You can also enjoy a picnic, sunbathe and make the most of the weather, for as long as you like.
Please do not:
Have BBQs
Use the playgrounds and outdoor gyms
Drop litter; bag up your rubbish and dispose of it properly, even if that means taking it home
Cycle in marked 'No cycling areas'
With the slight easing of some lockdown measures, two of the three public toilets in Battersea Park have reopened, with staff on hand two ensure social distancing. Public toilets in other parks remain closed for the time being.
___________________________________________________________________
"We are used to engaging with people, and over the last few weeks, we have talked to many residents to help them stay safe. Unlike some local authorities, Wandsworth has kept its parks open, since the lockdown began. During this period we have encouraged people to go for their walk, jog, cycle or play with their kids; and now they are able to spend more leisure time there. Keeping these spaces open is so good for people's mental and physical wellbeing.
"The majority appreciate what we're doing. Sometimes people just want that little bit of explanation on the guidelines. We are happy to give that in as polite a way as possible, but what we won't tolerate is the irresponsible few who put others at risk; and we'll always tackle that when we see it happening.
"We've had many people stop us to say, 'thank you' including the NHS. I cannot express enough how much we have appreciated this, in such challenging times, and I know that all the Parks Police would like to thank you for your continued support."
*A weekly newsletter is being sent to Wandsworth residents to update them on council services during the Coronavirus crisis.To keep receiving these weekly updates when the crisis is over, you can subscribe here