Old York Road changes improve road safety and offer boost to local businesses
Published: Tuesday, June 30, 2020
As part of its response to Covid-19, the council is temporarily introducing a road closure on Old York Road so that the road space can be reallocated to encourage more walking and cycling.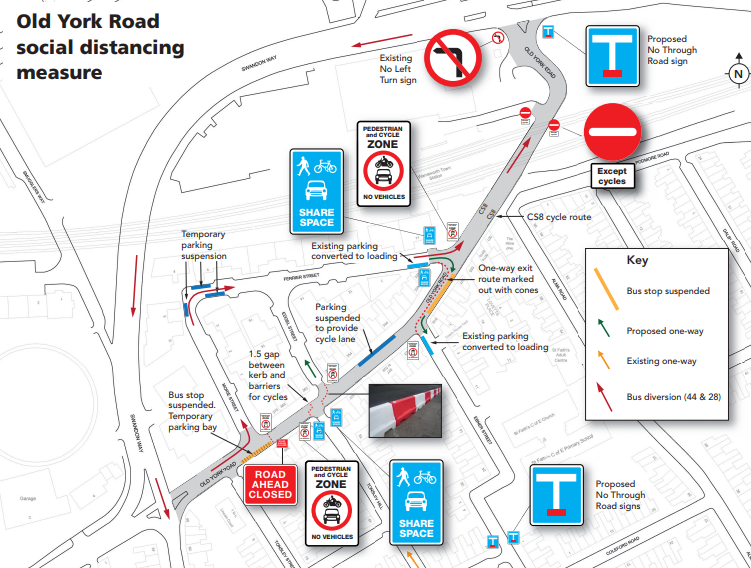 The proposal is also designed to support local businesses in Old York Road, especially its many bars and restaurants, as it will provide them with the opportunity to have outside tables and chairs so that their customers can comply with social distancing measures.
This temporary closure to motor traffic means that there will be some changes to bus routes.
Northbound buses will be diverted via Morie Street and Ferrier Street and southbound buses will be diverted via Swandon Way. Some parking suspensions will be necessary, but local access will be maintained.
The change will also allow the council to assess its suitability as a low traffic neighbourhood in the longer term.
The closure will commence on July 6 and is currently scheduled to remain in place until the end of August.
During this period, the council is keen to hear the views of local residents and businesses whose feedback will help determine whether or not this trial scheme should shape future changes to the local road network.
People can submit their views by emailing SocialDistancing@wandsworth.gov.uk using 'Old York Road' as the subject line.
The council's transport spokesman Cllr Paul Ellis said: "This measure will hopefully encourage more people to walk or ride bikes, while turning over road space to local businesses could be invaluable in helping them bounce back from lockdown."
*A weekly newsletter is being sent to Wandsworth residents to update them on council services during the Coronavirus crisis.To keep receiving these weekly updates when the crisis is over, you can subscribe here