Newest low traffic neighbourhood unveiled in Balham
Published: Thursday, June 25, 2020
Traffic engineers will be carrying out work tomorrow (Friday) to implement the borough's newest low traffic neighbourhood.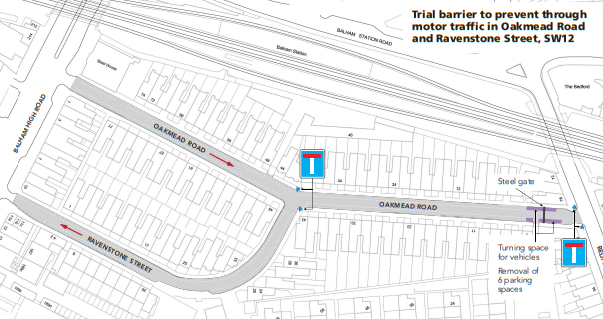 The scheme will see through traffic deterred from accessing Oakmead Road and Ravenstone Street. A barrier will prevent motor vehicles using these two residential roads as a cut through between Balham High Road and Bedford Hill.
The barrier will be installed in Oakmead Road close to its junction with Bedford Hill. From Monday it will be fully accessible by cyclists but not cars and vans – and a turning space will be provided for car drivers who fail to see the associated traffic signs and inadvertently find their route blocked. This ensures they won't have to reverse back along Oakmead Road putting other road users and pedestrians at risk.
The removal of through traffic in the area will also benefit children and parents attending Ravenstone Primary School, especially those walking and cycling to and from the school.
The measure is being introduced in response to calls from local residents concerned at traffic levels in their neighbourhood and the number of drivers using their streets as a short cut to avoid hold ups at the junction of Balham High Road and Bedford Hill.
The barrier is being introduced initially as a six month pilot scheme - with the option of extending that trial period for up to 18 months. Feedback from local people will help determine if it is to be retained permanently, amended or scrapped.
Residents can give that feedback by submitting their views via an online survey at https://haveyoursay.citizenspace.com/wandsworthecs/oakmead. People who would prefer to use a paper copy of the survey can request one by emailing anthony.maher@richmondandwandsworth.gov.uk.
The council's transport spokesman Cllr Paul Ellis said: "This is a simple but effective measure that should stop through traffic from travelling unnecessarily along these two quiet residential streets that's also home to a primary school.
"The council is keen to introduce low traffic neighbourhoods where possible. By making our streets quieter and safer we hope to encourage more people to travel on foot or by bike."
The announcement comes just days after it emerged that the council has successfully secured an initial tranche of funding worth more than £800,000 which will be used to deliver 16 school street projects, a major cycle corridor and eight more low traffic neighbourhoods.
Further waves of funding are anticipated to help deliver additional road safety projects across the borough.