New pocket park and cycle contraflow set to be unveiled in Tooting
Published: Thursday, June 4, 2020
The council is planning to bring forward plans for a new green open space and cycle contraflow system in Tooting's Mellison Road as part of its response to the coronavirus pandemic.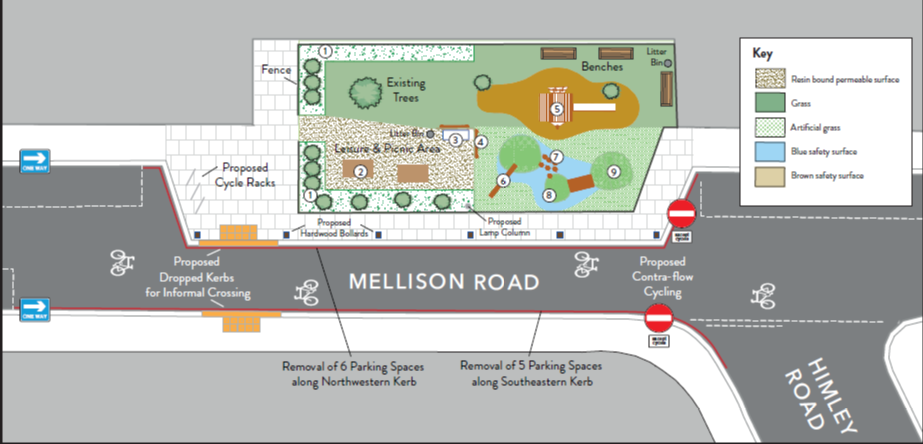 Councillors will next week (June 9) be asked to accelerate plans for a new pocket park, complete with trees, shrubs, seating, a picnic area, bike parking and play equipment for younger residents.
And to ensure it offer visitors greater peace and tranquillity and is safer for pedestrians and cyclists, the plans call for this short stretch of Mellison Road to be made one way only to traffic, but with a cycle contraflow system to encourage cycling.
If councillors agree to bring the plans forward, after a public consultation last autumn, the new pocket park will be located on a stretch of Mellison Road, next to the Gravenel Gardens estate and opposite the junction with Himley Road.
It will cover an area up to 240 square metres and include land currently used as parking spaces.
The council's cabinet member for strategic planning and transport Cllr Paul Ellis said: "We think this part of Mellison Road has the potential to be a wonderful little green oasis, providing local people with a place to relax and unwind, both of which are especially important during the current medical situation.
"And to encourage people to ride bikes and be safe while doing so we will be changing the rules of the road here to make it one way only for vehicle traffic while introducing a cycle contraflow.
"And by ripping up the tarmac and replacing it with grass, trees and shrub, and installing play equipment, it means that when the pandemic is over and life returns to normal, people in this part of Tooting will have a wonderful new community space to enjoy."
The move has been welcomed by local community group Tooting Healthy Streets which issued a statement saying: "We're delighted to see that the pocket park is going ahead. It supports our vision for active, safe, green and social streets in Tooting.
"This part of Graveney has for a long time needed public spaces and places for children to play. Mellison Road also carries too much traffic and the one-way section will start to change that. We hope this will be the first building block for a low traffic neighbourhood and we can't wait to see it built."