Measures to aid safe distancing measures introduced in Putney High Street
Published: Tuesday, June 2, 2020
A number of measures have been introduced to support safe distancing in Putney High Street by widening its traditionally narrow pavements and allowing more space for pedestrians at busy pinch points.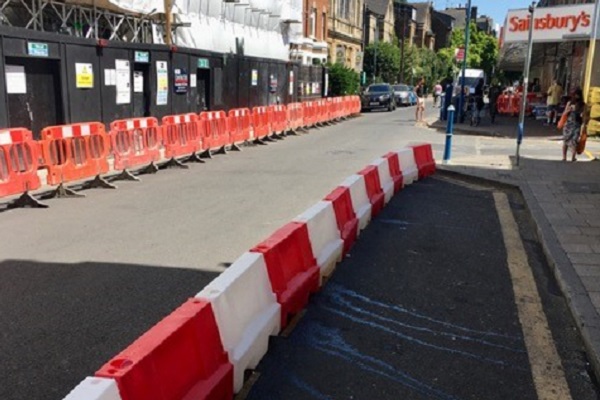 Temporary barriers have been placed in the carriageway to give pedestrians extra room while guard railings have also been permanently removed and the congested southbound bus stop and adjacent Werter Road taxi rank relocated to make it easier to comply with social distancing rules.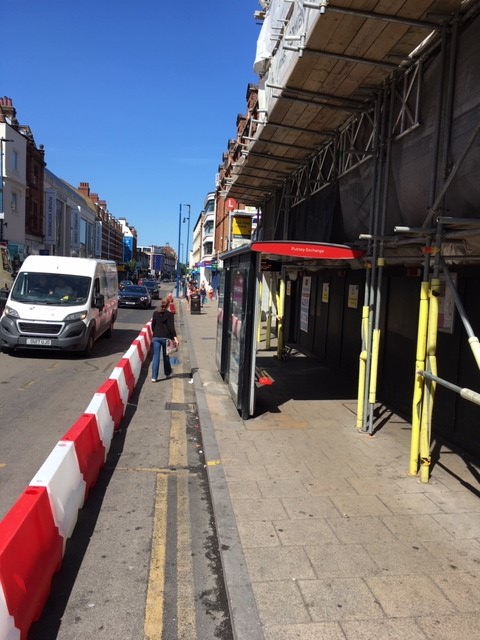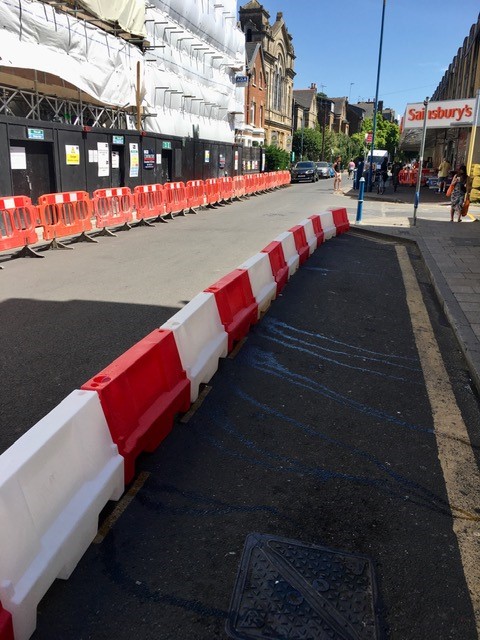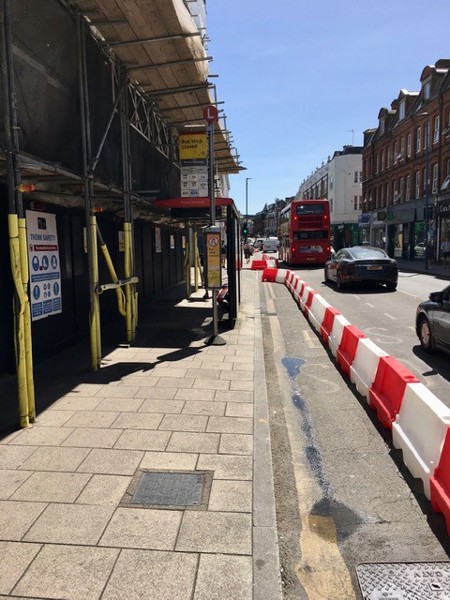 These works have been carried out as a result of the Coronavirus pandemic. They are in addition to a much wider package of improvements the council is currently delivering along the high street. The footway widening element of this package is also now being accelerated to permanently increase pedestrian space.
These permanent improvements include:
• Widening and repaving stretches of the eastern side of the high street between Disraeli Road and Putney Bridge Road.
• Improving safety at junctions by constructing granite 'Copenhagen crossings' to slow vehicle speeds and aid pedestrians.
• Introducing a 20mph speed limit.
• Repaving the area outside the railway station.
• Introducing a loading bay outside Tesco to minimise congestion.
• Upgrading and modernising street-lights with more energy efficient LED lamps.
• Providing more parking for bicycles, including two-tier stands on Disraeli Road.
• Planting new street trees and other greening measures including 'parklets'.
• Decluttering the landscape by removing unnecessary signs and modernising street furniture.
• Introducing contraflow cycle lanes on side roads where possible.
These works were drawn up following extensive consultation with local people and neighbourhood groups. Other projects carried out to make the town centre more attractive include the uplighting of St Mary's Church and the illumination of Putney Bridge. Future work could include improvements to public areas, installing a 'city tree' to help filter pollution, and the creation a new small park.
Putney was also one of 50 towns across the country to be included in the Government's expanded Future High Streets Fund. The council will work with partners to draw up plans to tackle pollution, congestion and empty shops.
Cabinet member for strategic planning and transport Cllr Paul Ellis said: "We are committed to making Putney High Street safer and more attractive and accessible for pedestrians and cyclists and to improve the flow of traffic.
"These latest measures have been introduced to support social distancing and keep people safe, but they are in line with a much wider and permanent package of works to improve the high street and support businesses by making it a better, safer and more pleasant place to shop and visit for pedestrians and people on bikes.
"As well as improving the feel and the ambience of the town centre these measures will support our efforts to improve air quality in the high street and help us meet our pledge to tackle climate change.
The council is also urging Transport for London to introduce similar bike and pedestrian-friendly measures along the busy shopping areas it controls. These include Wandsworth High Street, Tooting High Street, the Upper Tooting Road, Balham High Road and Battersea Rise.
*A weekly newsletter is being sent to Wandsworth residents to update them on council services during the Coronavirus crisis.To keep receiving these weekly updates when the crisis is over, you can subscribe here