Mayor raises funds for Alzheimer's Society
Published: Wednesday, June 10, 2020
The Mayor of Wandsworth has raised £5000 this year for the Alzheimer's Society.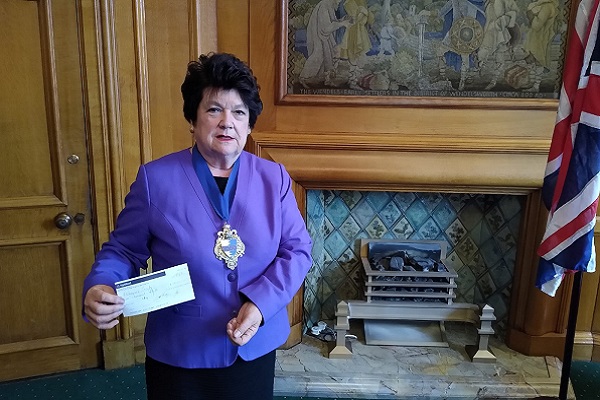 Cllr Jane Cooper chose The Alzheimer's Society as one her official charities because of the vital work they carry out in the borough and because so many people are affected by Dementia.
This is the third cheque to be presented by Cllr Cooper as she distributes funds raised during her mayoral year. The first was given to AgeUK Wandsworth and the second to the animal charity Battersea.
The Mayor has raised money through a string of charity events and gala this year, including a quiz, a 'Bop to the 80s' night and a float in the New Year's Day Parade.
The number of people recorded with dementia in Wandsworth in November was 1,816, with 2,221 estimated to have the condition. By 2025 there will be an estimated 2,396 people over the age of 65 living with dementia in the borough..
 Cllr Cooper said: "Dementia is the UK's biggest killer and one in three people born today will go on to develop the condition I know so many people with dementia and I'm determined to do all I can to help.
"I hope this money will go some way towards helping the Alzhimer's Society's vital work researching the causes of this terrible disease and raising awareness of the need of people with dementia and their families for dignity and respect."
Natasha Brame from the Alzheimer's Society said: "A massive thank you to Councillor Jane Cooper and everyone one in the borough of Wandsworth for your wonderful support over the past year and the fantastic donation.
At times like this, our support for people affected by dementia is more important than ever. Of the 850,000 people with the condition in the UK, 700,000 fall into the Government-specified vulnerable category which will only serve to exacerbate the feelings of isolation and loneliness that many people with dementia have reported feeling.
"Your generous donation at such a difficult time is so greatly appreciated and every penny means we can continue to be there for people affected by dementia, wherever they are and whenever they need us."