Low traffic neighbourhood scheme enhances cycle contraflow in Earlsfield
Published: Friday, June 26, 2020
Residents living on a busy motor vehicle short cut in Earlsfield will be among the latest to benefit from a reduction in traffic levels in their street with the introduction of the borough's latest Low Traffic Neighbourhood.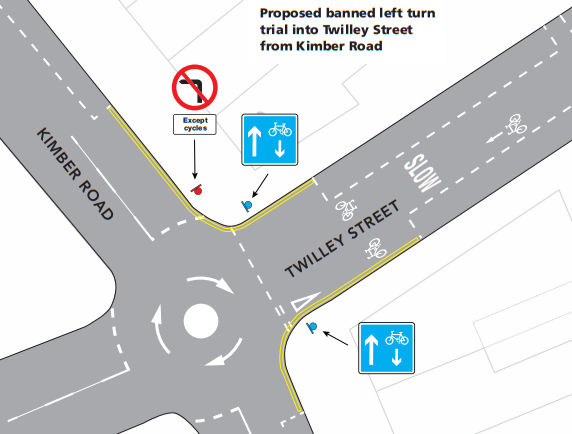 Steps are being taken to prevent drivers using Twilley Street as a convenient cut through between Kimber Road and Garratt Lane.
From July 6, motorists will be prevented from turning left into Twilley Street from Kimber Road. A new 'no left turn' prohibition will be in force - with drivers who flout the change risking the possibility of receiving a fixed penalty notice in the post.
A cycle contraflow scheme was introduced in Twilley Street last year and this additional measure will significantly improve safety for people travelling by bike.
Transport spokesman Cllr Paul Ellis said: "Twilley Street is a busy cut through as it allows drivers to avoid the traffic lights at the junction of Kimber Road and Garratt Lane.
"But it really isn't suitable for such high volumes of traffic, and so in response to pleas for help from local residents, we will be taking steps to make it another of the borough's Low Traffic Neighbourhoods.
"It will enhance the existing cycle contraflow that's already in place and make this a much safer route for cyclists travelling in both directions."
The restriction will initially be put in place for a minimum of six months with an option to extend it for up to 18 months to gauge its effectiveness and potential impact on other local roads.
Feedback from local people will also help determine if it is to be retained permanently, amended or scrapped.
Residents can give that feedback by emailing their views to socialdistancing@wandsworth.gov.uk
The announcement comes just days after it emerged that the council has successfully secured an initial tranche of funding worth more than £800,000 which will be used to deliver 16 school street projects, a major cycle corridor and eight more low traffic neighbourhoods.
Further waves of funding are anticipated to help deliver additional road safety projects across the borough.