Guys Get Active
Published: Tuesday, June 30, 2020
The council has launched the summer Guys Get Active programme to help men in Wandsworth lose weight and become fitter while enjoying sports.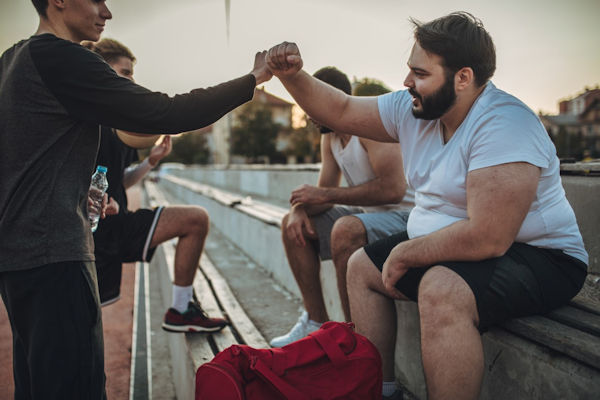 Registration in on Monday July 6 in Battersea and Wednesday July 8 in Tooting, with the sessions starting the week after for 10 consecutive weeks.
For £20 per course each member will get the opportunity to choose from two different exercise sessions led by qualified instructors, and a virtual nutrition session by one of the trained professionals at Enable Leisure and Culture.
To be part of this programme you must be male and live, work or be registered with a GP in the borough of Wandsworth  with a BMI of 27.5+ or a diagnosis of type 2 diabetes. Options include football and fitness sessions.
Malcolm, who took part in a previous football programme said: "Couldn't play football, couldn't lose weight, what was I doing joining a football weight loss programme? However, it was great fun and enjoyed the fantastic team spirit with people in the same situation as me. At the end of the programme I scored 2 goals, one in the back of the net and 13kg weight loss." 
The football session is suitable for all football and fitness levels. A qualified coach will put you through your paces with some football drills and training as well as a range of circuit-style exercises to improve your fitness and help you lose weight. All exercises can be adapted to ensure you are getting the most out of your sessions. Find out more
The virtual men's only fitness-based session is delivered virtually via Zoom. A qualified exercise instructor will introduce you to a range of exercises to improve your cardiovascular health, muscular strength and endurance, joint flexibility as well as help you to lose weight. As all exercises can be adapted to suit individual needs, this session is suitable for all fitness levels.
Previous participant Don said: "I participated in the pilot scheme and found it immensely rewarding and helpful. The sense of kinship and mutual support is very motivating but it's also a lot of fun, no pressure just a low stress way of getting back into physical activity amongst like-minded people. Highly recommended."
The virtual nutrition session, delivered via Zoom, will help you understand the importance of healthy eating. Partners can join some of the topics to make it easier to follow the advice at home. Find out more