Another Community Knock is coming to Roehampton
Published: Thursday, June 25, 2020
Regenerate and the My Roehampton project are preparing for another Roehampton Community Knock, reaching out to isolated people.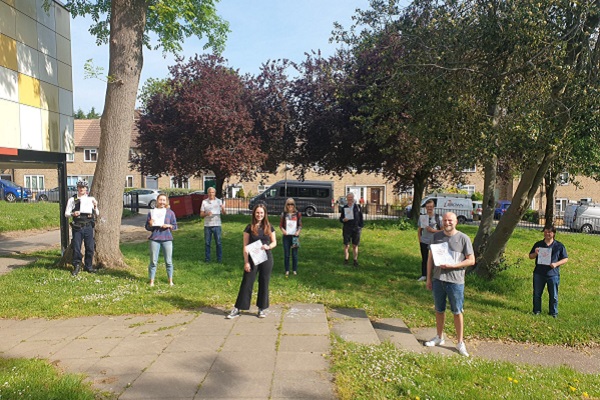 My Roehampton is a council-funded scheme run by Citizens Advice Wandsworth in association with several local groups, councillors, charities and individuals.
The aim is to encourage a strong community and thriving voluntary sector and to empower local residents to become more confident, engaged and effective at addressing issues impacting their daily life.
During the lockdown it has worked with local charity Regenerate and other partners such as St Josephs, Heathmere and Rackets Cubed alongside local residents to form the Roehampton Response Network. This was created in the early stages of the lockdown to help coordinate the Covid 19 response in Roehampton.
Although the lockdown is easing, many people are still very isolated and vulnerable, and together they have decided to again call to distribute to around 5,000 neighbourhood homes, give them a copy of the newsletter and just check in (Knock!) with people to see if they are OK.
Project lead Jonathan Palma said: "We need to look at the opportunities Covid - 19 has presented to us; it's given us a window into how we can improve not only as individuals but how we can work towards strengthening communities.
"The Community Knock is great example of creative and meaningful co-production between residents and services to ensure we get information to those who need it most and in turn build stronger and more informed communities.'
Cllr Melanie Hampton, cabinet member for health and social care, said: "In 2018 the council produced a report looking at the Alton, Putney Vale and Lennox estates to see what groups and organisations were operating there. We found a thriving community and My Roehampton was set up to bring people together and create a shared sense of purpose.
"During the lockdown it has really come into its own, and members of the community have reached out and been there for each other to provide advice and support. Please listen out for the next Knock and take the opportunity to find out what a friendly, supportive community you live in."
The next Roehampton Community Knock is due out early July 2020.
If you are an individual interested in helping your community or part of group, charity or service designed to support the communities of Roehampton and would like to get involved with My Roehampton, contact Jonathan Palma (JP) on jonathan.palma@cawandsworth.org or call 0203 559 2004