New homes for Winstanley and York Road approved
Published: Wednesday, January 29, 2020
Wandsworth Council's planning committee last night resolved to approve plans for 2,550 homes, 35 per cent of them affordable, plus a range of community facilities on the Winstanley and York Road Estates.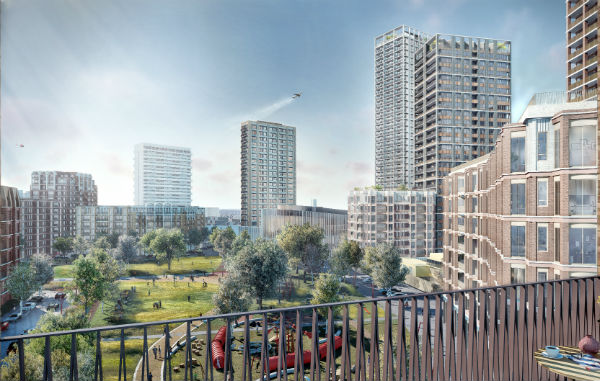 The plans include replacement council homes for all existing secure tenants and resident homeowners plus a leisure and community centre, library, children's centre and nursery.
At the same meeting councillors approved plans to potentially build 759 new homes on three plots of the former Royal Mail site in Nine Elms, bringing the total number of potential new homes approved this week to 3,309. Across the entire former Royal Mail site, 1,950 homes are planned by 2025, 363 of which would be affordable. Read more about the new homes on the former Royal Mail site.
The Winstanley and York Road plans were developed following extensive consultation with local people. More than 7,000 households were invited to a series of events including school sessions, design workshops and resident group meetings. Find out more on the Winstanley and York Road website.
'More than just new homes'
Leader of Wandsworth Council Cllr Ravi Govindia, said: "We have carried out varied and extensive rounds of public consultation ensuring that residents and the community have their say on our ambitious plans to shape the area. The great news we have received today brings us one step closer to delivering on the Winstanley and York Road masterplan in this Joint Venture Partnership.
"The regeneration of this area will bring forth more than just new homes, we are building a new leisure centre, new library, and new children's centre around a new park. We want to build new homes and an exciting future for all who live in them."
Lee Bishop from Taylor Wimpey said: "We are obviously delighted that after a significant period of public consultation and engagement with the local community and our key stakeholders, Wandsworth Council has given the green light to our detailed plans to breathe new life into Winstanley and York Road Estate. The proposals will deliver major benefits to the community – not least a significant number of quality new homes, but also a range of new community facilities."
Key benefits within the application include:
Up to 2,550 new homes, 35 per cent of which are to be affordable
a mix of tenures including social rent, shared ownership, shared equity, affordable rent, private rent and open market sale
the re-provision of all council rent and resident leaseholder homes. The new council homes will be built to match the housing needs of the existing residents eliminating over-crowding and ensuring homes are fully adapted to residents' physical mobility needs
major new community infrastructure, including a state-of-the-art leisure and community centre, a library, a children's centre and nursery
the creation of a new public park is at the heart of the development. Totalling 2.49 hectares, this new open space will offer a greater range of amenity and increased accessibility, enabling many more homes to benefit from its use
significant economic benefits, including in excess of 388 net additional permanent jobs and gross value added (GVA) to the local economy of £207.6m.
A new employment and skills centre run by the council's Work Match scheme has already been delivered as part of the regeneration, whilst work is well underway on 46 new affordable homes as part of the first phase of this development, which provided new council homes for existing estate residents. Wandsworth Council is committed to building on this and boosting the provision of housing in the area.
The plans were approved subject to conditions. The scheme will now go to the Mayor of London for final consideration.