Wandsworth's hidden treasures
Help us uncover the borough's hidden gems!
We are searching for some of Wandsworth's hidden treasures - borough gems you may not know about. 
We would love to hear from you about hidden treasures of your own. It could be a tucked-away neighbourhood pub, shop or restaurant, hidden beauty spot, a place of historical interest or a great city walk - whatever you like.
We have teamed up with the Putney app TiCL to help you find these local gems. Download the app and you will be able to find them on an interactive map. You can also use the app to suggest your own ideas.
Thanks to everyone who has come up with suggestions. Lots of you posted ideas on Streetlife.com. 
Here are some of our ideas, and yours.
The Wandle Delta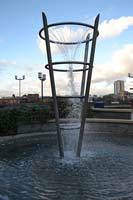 Once dominated by a gasworks and the enormous Shell oil depot,  the Wandle Delta has been utterly transformed in recent years and is now an attractive part of the South Bank with river walks, wildlife and outdoor bars and cafes to explore. A new walking and cycling route has been created through Wandsworth Bridge so visitors can continue a traffic-free stroll to neighbouring Battersea Reach.
Putney Sculpture Trail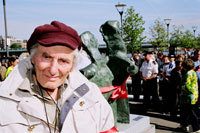 The Putney Sculpture Trail features nine near life-sized figurative sculptures and is believed to be unique to London. The works were donated to the people of Putney by sculptor Alan Thornhill (pictured here at the launch of the trail in 2008).
St Anne's Church

This Wandsworth church was nominated by local photographer Andrew Wilson on Streetlife, who said "I literally stumbled across it on my bike several years ago - I love it."
Putney Milestone

Our friends at TiCL have suggested this as their favourite hidden gem. It's surrounded by vegetation and is believed to be the oldest milestone in London. Get details of how to find it on TiCL.
Ghost signs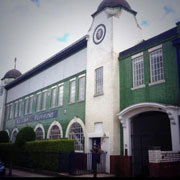 Several of these were mentioned on Streetlife.
This one, posted on the TiCL app, is the Nourish and Flourish sign in Southfields.
Another in Putney nominated by Maggie Jones on Streetlife says 'fire watchers bell'.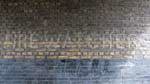 The Boat Race Start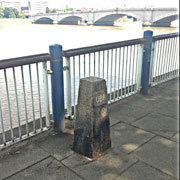 This stone marks the traditional start of the University Boat Race on the Putney Embankment. Thanks to TiCL for this one.
Granada Cinema, Tooting

This fantastic grade 1-listed art deco cinema opened in 1931, and is now a cinema.
The Hugenot Burial Ground
Located between Hugenot Place and East Hill, the site, also known as Mount Nod Cemetery, was opened in 1687 and was mainly used for Hugenot refugees who had fled to Wandsworth. Thanks to William Holland for the idea and the picture for this and the Iron Railway Plaque.  
The Iron Railway Plaque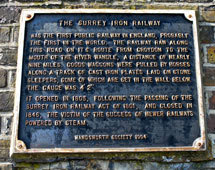 The plaque, on the side of the former Ram Brewery, commemorates the horse-drawn Surrey Iron Railway which ran alongside the Wandle from Wandsworth to Croydon.
Other ideas
Other ideas include:
Battersea Rise Cemetery (nominated by Battersea Events on Twitter)
Daffodils in the grass in Battersea Rise (Geoffrey C)
Battersea Reference Library
The Peterkin Custard ghost sign in Sangora Road, Battersea (Gwen E)
The water garden in the courtyard of St James' Wing, St George's Hospital (Jane S)
The air raid shelters under Clapham Common (Sarah L)
The independent shops, cafes and restaurants in Ritherdon Road, Balham