Free wi-fi coverage is now available across much of the borough.
How it works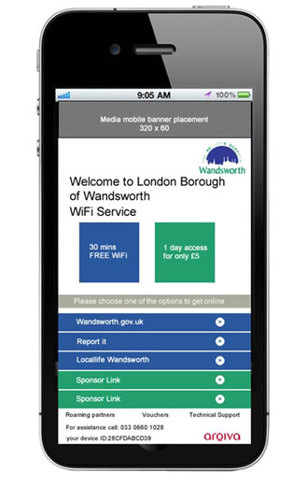 The Wandsworth Council-branded wi-fi service gives registered users 30 minutes' free wi-fi a day. Once the half hour is up, users can extend their session for £5 a day.
The websites www.wandsworth.gov.uk and Locallife Wandsworth are free to use for any length of time without the need to register.
The scheme is being delivered by the technology company Arqiva at no cost to the Council. The Council has received half a million pounds from Arqiva at the beginning of the contract for the use of the Council's lampposts to install the network, and will get a share of any income generated.
Locations are live across the borough including Putney, Balham, Wandsworth, Clapham Junction and Tooting. More of the borough will come online in future phases.
Access free wi-fi 
To access the free wi-fi, check your list of available wi-fi networks. If it is available in your area, _WANDSWORTH_FREE will appear near the top.
Free wi-fi is also available in borough libraries.