Upgrades at Clapham Junction pocket park include improvement for people with disabilities
Published: Friday, August 7, 2020
A local neighbourhood pocket park in Clapham Junction has been given a fresh facelift thanks to a council refurbishment scheme.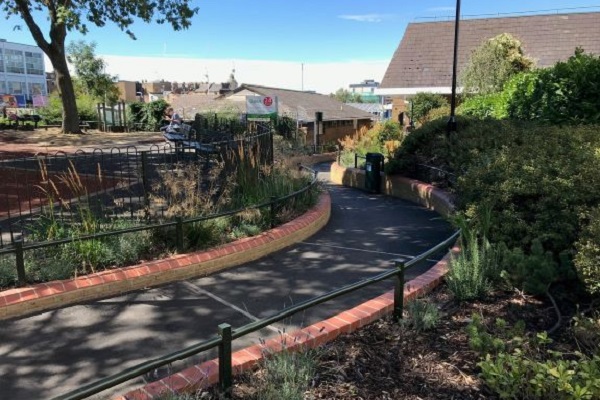 Work was recently completed to upgrade pedestrian routes through Lavender Gardens and improve access for people with disabilities.
A set of steep steps has been replaced with a smooth ramp which runs all the way from the entrance in Dorothy Gardens through to the nearby Asda store.
The project also saw an upgraded child-friendly safety surface installed underneath its play equipment, along new litter bins, benches plus new landscaping and planting.
Additional planting will be carried out ahead of the winter to ensure this small neighbourhood green space stays green and leafy all year round.
The £120,000 invested in sprucing up Lavender Gardens is just the latest in a long list of neighbourhood projects funded by the Wandsworth Local Fund (WLF) which distributes cash levied by the council on new developments in the area to help pay for community and neighbourhood infrastructure improvements.
Over the past three years more than £7.5m in WLF money has been spent on local improvement initiatives including schemes to support safer communities, employment opportunities for young people, better pavements and improved playgrounds.
Also funded by the WLF are the ongoing improvement works at another nearby green space - Fred Wells Gardens - which is currently undergoing a £300,000 revamp. This includes replacing child friendly soft surfacing in the playground, rebuilding walls undermined by tree roots and widening paths and stairways to ensure they are more family friendly for parents with buggies while also improving access for people with disabilities. It will also provide new play equipment, a resurfaced tennis court and attractive planting and landscaping.
Environment spokesman Cllr Steffi Sutters said: "These works have made a real difference to the hidden little gem that is Lavender Gardens. It is now much more welcoming and attractive and offers step free access for pedestrians.
"It's a big improvement, and because the money has been levied from housing developers in the area, these community benefits have been delivered at no cost to council tax payers."
Similar WLF-funded improvements include the all-weather ball games area in Chivalry Road, plus upgrades to playgrounds at Upper Tooting Park, Godley Gardens, Swaby Gardens, Leaders Gardens and Battersea Park., plus Falcon Park and Furzedown Rec.
Other WLF-funded schemes include Christmas lights in the town centres, new LED street lights, a major road and pavement resurfacing programme, repainting Earlsfield Station railway bridge, refurbishing Putney Vale Cemetery and the Quest project providing intensive support to get young people into work.
Several public realm improvements to smarten up shopping streets include Putney High Street, Bedford Hill and Bellevue Road.
A guide has been published offering local people advice on how they can nominate community schemes for funding. It's available at all local libraries or can be read online at www.wandsworth.gov.uk/WLF.