Three new Low Traffic Neighbourhood pilot schemes for Tooting
Published: Tuesday, August 11, 2020
The council has unveiled a comprehensive package of trial measures designed to make areas of Tooting much more bike and pedestrian friendly and deter rat run traffic.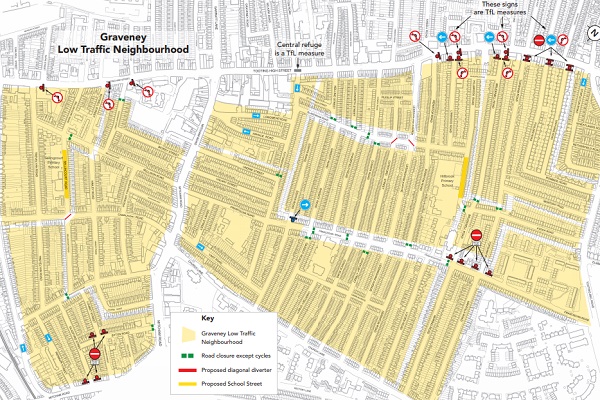 The changes are part of the council's response to the Coronavirus pandemic and the need to free up additional space on the highway in support of social distancing and to encourage alternative forms of travel.
A series of Low Traffic Neighbourhoods (LTN) will be introduced on August 17 - on a temporary trial basis so that their effectiveness can be closely monitored and evaluated. Feedback from local residents will be key in determining if these pilot schemes are to be retained or withdrawn.
Letters showing these detailed designs and further information on each of these LTNs are on their way to all residents in these Tooting neighbourhoods.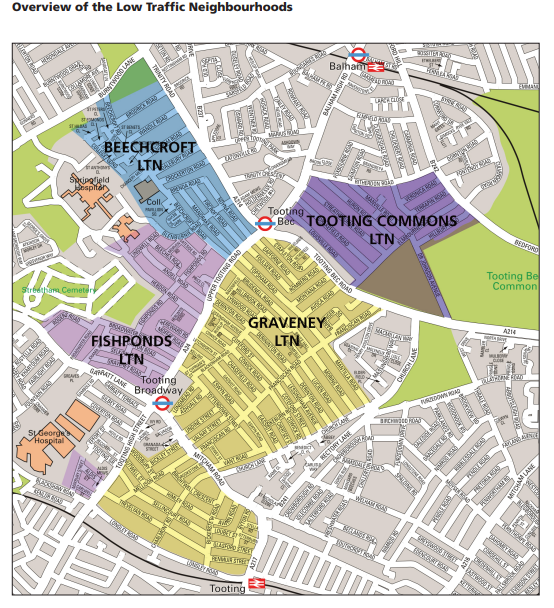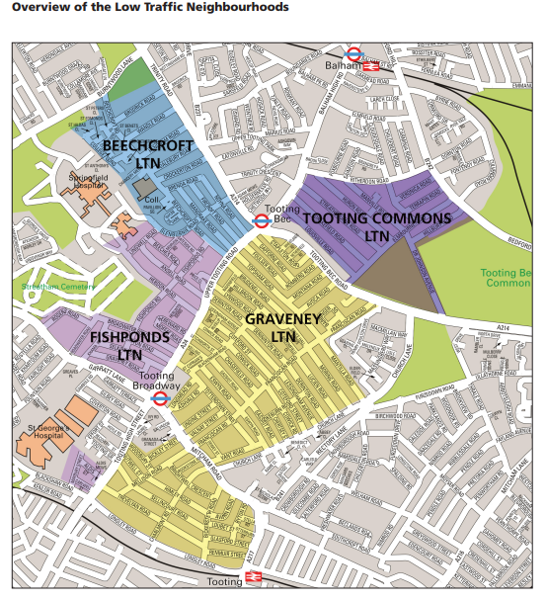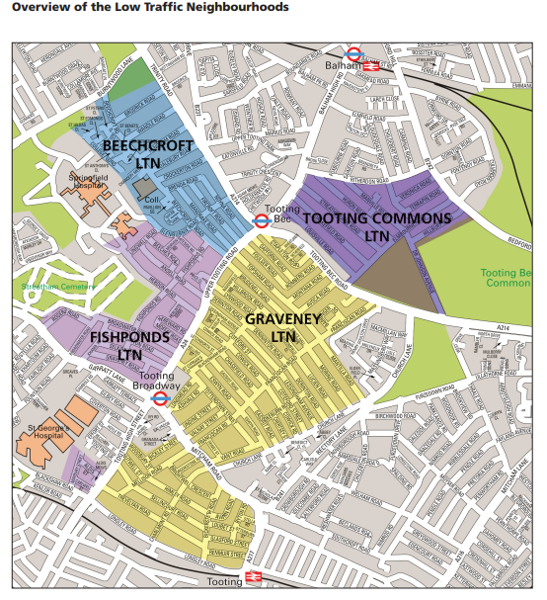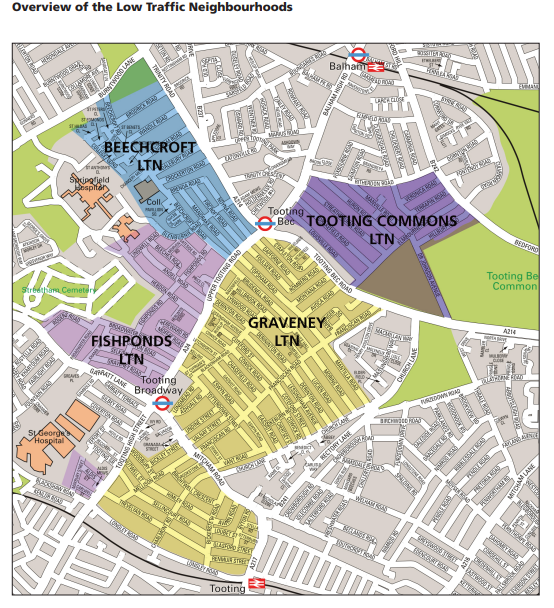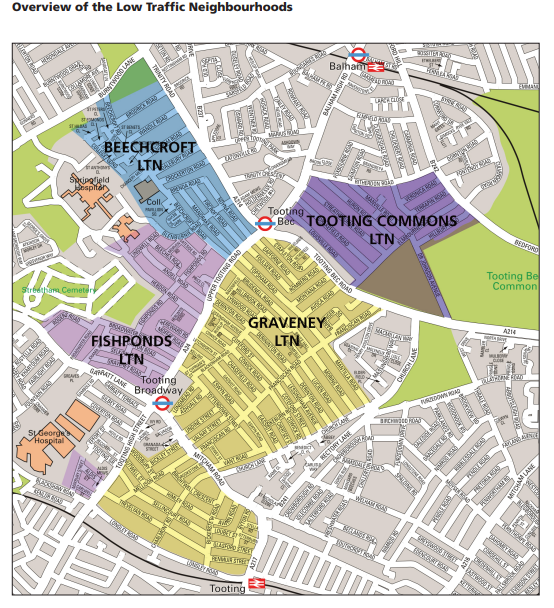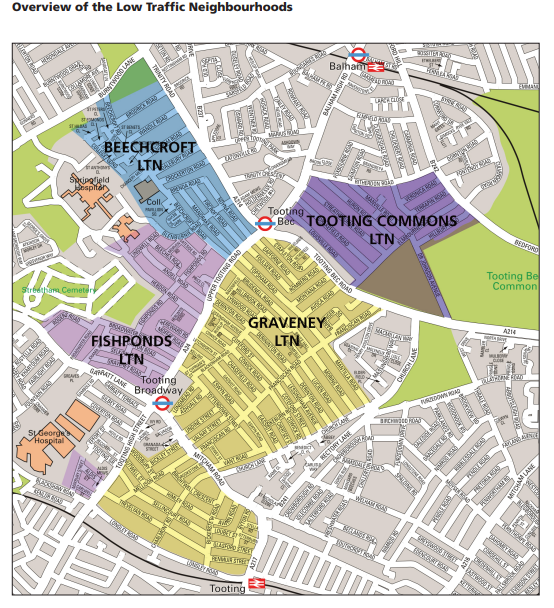 Three LTNs will be introduced in Tooting next week. The largest will cover parts of Graveney ward, while two others will include residential streets in and around Fishponds Road and Beechcroft Road. They will mainly include a series of 'modal filters' – which prevent motor vehicle access but still allow enough space for bicycles to pass through.
By making these three neighbourhoods quieter and safer the hope is that it will encourage residents to consider new forms of travel like cycling and walking. Funding has been provided by Transport for London (TfL) under its London Streetspace Plan which aims to persuade people to take up alternative forms of travel as the country emerges from lockdown.
Another LTN has just come into effect around Tooting Common, while Transport for London (TfL) is also trialling its own separate and additional measures on the A24 Tooting High Street/Upper Tooting Road.
Transport spokesman Cllr John Locker said: "We believe the changes we are piloting could lead to a dramatic improvement in the quality of life of residents in these three pilot areas.
"Much of the traffic using these streets is simply passing through or trying to avoid hold-ups on the A24. By deterring these rat runners and making these areas quieter and safer we hope to inspire people to take up other forms of travel like walking and cycling.
"But nothing is set in stone. These are temporary pilot schemes only so it's important that we monitor the effects carefully and listen closely to what local people tell us about their pros and cons. Their feedback will be crucial in determining what happens next."
The public consultation will get underway on August 17. To register views from that date onwards please visit www.wandsworth.gov.uk/consultations.
The Graveney LTN includes the following measures:
Modal Filters (road closed except cycles)
• Mellison Road junction with Sellincourt Road
• Bickersteth Road junction with Glasford Street
• Byton Road near its junction with Mitcham Road
• Woodbury Street near its junction with Tooting High Street
• Franciscan Road between Cowick Road and Gassiot Road
• Franciscan Road to the south of its junction with Moring Road
• Gassiot Road and Cowick Road at their junctions with Franciscan Road
• Blakenham Road between Cowick Road and Chasefield Road
• Letchworth Street and Kellino Street junctions with Blakenham Road
• Totterdown Street south of the junction with Ashvale Road
• Hillbrook Road south of the junction with Brudenell Road
• Brudenell Road and Topsham Road north of the junction with Avoca Road
• Derinton Road north of the junction with Franciscan Road
Point of No Entry (except cycles)
• Mitcham Road junction into Glasford Street
• Byton Road junction into Loubet Street
• Franciscan Road into Topsham Road and Brudenell Road
Diagonal Diverter (Part closure preventing ahead movements)
• Charlmont Road junction Sellincourt Road
• Blakenham Road junctions with Coteford Road and Lessingham Road
Turning restriction
• Left turn only from Eswyn Road into Franciscan Road
In the Fishponds LTN
Modal Filters
• Junctions of Fishponds Road with Hebdon Road, Selkirk Road and Graveney Road
• Junction of Hebdon Road with Fishponds Road
• Khama Road north of its junction with Graveney Road
• Broadwater Road west of its junction with Khama Road
• Maybury Street at junction with Blackshaw Road
In the Beechcroft LTN
Modal Filters
• Beechcroft Road to the north of the junction with Brodrick Road
• Beechcroft Road to the south of the junction with Glenburnie Road
• Junctions of Glenburnie Road with Lingwell Road, Morven/Gateside Road