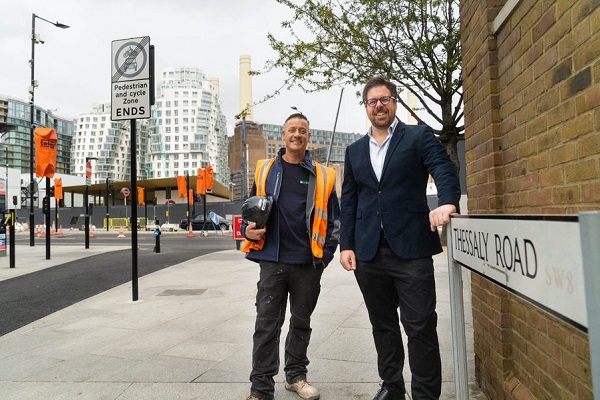 Back in 2018 Work Match celebrated getting its 1,000th person into employment, and three years later it has now placed its 1000th person within the construction industry and over 1800 residents into work.
Mark Ireland secured a job as a logistics manager working at Battersea Power Station with the help of Work Match.
He said: "I got made redundant last March and I had a spell of unemployment. My certifications ran out while I was in unemployment. I got referred to Work Match and they helped me retrain, renew all my certifications and found me a position at Battersea Power Station as a logistics manager.
"It's very challenging, it's new. I've never worked in new build before so every day is an education. Work Match helped me get me where I am today and I don't know what I would have done without them. They just put me in for the right courses, helped me with a CV and added all my new certifications.
"I was really shocked when I found out I was the 1000th person that Work Match have helped get a job in the construction industry. It threw me. I feel really proud I am that person."
Work Match was launched in 2013 with the aspiration to help unemployed Wandsworth residents secure new jobs, apprenticeships and training roles, working with businesses across the borough.
Unlike most recruitment teams Work Match is not driven by commission targets and only puts forward candidates who are genuinely ready, willing and able to meet workplace demands.
The Work Match team supports candidates through the application process - including help with CVs and interview skills - to give them the best chance of success. They also help local people find any pre-job training and support they need to get ready for the workplace.
The service works closely with Job Centre Plus, community organisations, local colleges and schools to provide an integrated support network.
Cabinet Member for Economic Development, Skills & Employment, Cllr Rhodri Morgan, said: "Work Match is a fantastic success story for this borough and I'm delighted it has hit yet another milestone of finding jobs for 1,000 Wandsworth people within the construction industry.
"The Work Match team is making sure our job seekers have a real advantage when it comes to securing new roles and I would urge anyone in Wandsworth looking for a job to get in touch with them."
• To contact Work Match call 020 8871 5191, email wandsworthworkmatch@wandsworth.gov.uk or visit www.wandsworthworkmatch.org