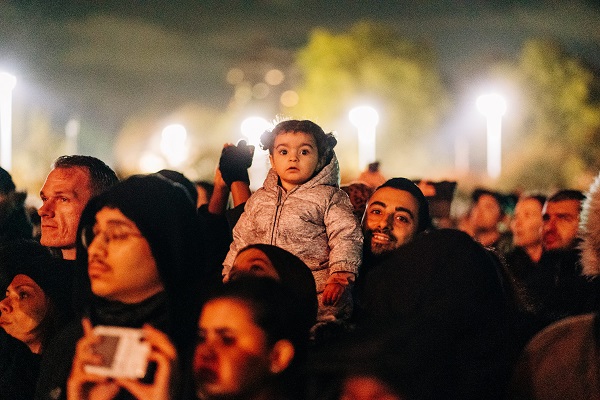 This year for the first time it will be a two-night extravaganza on November 6 and 7. Saturday night will be the classic Bonfire celebration, with Sunday night tailored to families and children with an earlier start time and new programming.    
Saturday night will feature the traditional bonfire at 7.30pm before the fireworks show kicks off at 8pm. The afterparty (over 18s) returns at the Evolution London with a live band and beer hall. 
The new Sunday Family Night, which starts an hour earlier, welcomes people of all ages. Instead of the bonfire there will be a new lighting installation, the Vortex Flow, by Squid Soup, a UK-based international group of artists, researchers, technologists and designers working with digital and interactive media experiences. Squid Soup's works have previously displayed at Sydney Opera House, Burning Man Festival and the Royal Botanical Gardens at Kew.  
This will be the first year that the show will be delivered by Titanium Pyrotechnics, the creative minds behind the Mayor of London's New Year's Eve celebrations and Edinburgh's Hogmanay.  
Wandsworth Council's Cabinet Member Community Services and Open Spaces, Councillor Steffi Sutters says: "The Battersea Park fireworks display is one of the most spectacular in London and I realise people were disappointed not to attend a live event last year.  I'm delighted it's back and I'm especially pleased that this year we will have a special event tailored for families so everyone can join in the fun.  
"We look forward to delivering a COVID-safe event and with all ticket sales helping us raise funds to enhance green spaces throughout Wandsworth we are hoping for a very successful two days. This year for the first time visitors will also be able to travel to the new Battersea Power Station tube station nearby.  
"Battersea Park Fireworks Show traditionally sells out, so make sure to book your family ticket early to avoid disappointment." 
Show Director and Enable's Head of Events Gemma Bechervaise says "We are so excited to be able to bring this new element to Wandsworth's Battersea Fireworks Show. There is nothing like it in South London and will be a night to remember for people of all ages."    
Tickets will go on sale 6 October with limited early-bird tickets available.  
Sign up for our email bulletins here to be alerted when tickets are available.