Let the council pick up your unwanted bulky items to avoid Mayor's ULEZ charge
Published: Tuesday, October 5, 2021
With less than three weeks to go before the Mayor's Ultra Low Emission Zone is expanded to include northern parts of the borough, residents are being reminded that they can book bulky waste collections from the council instead of driving into the zone to visit the civic amenity site in Smuggler's Way.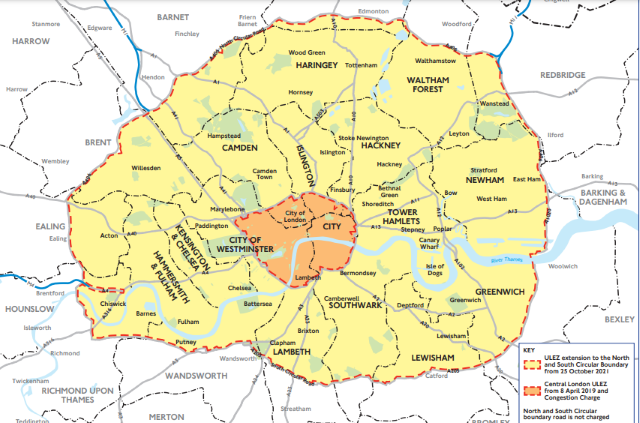 People wanting to dispose of large items like furniture, fridges or mattresses can have them collected from their doorsteps by the council for a modest fee.
This could prove to be more cost effective for some residents who would otherwise drive to the waste facility next to Wandsworth Bridge, which will be within the newly enlarged ULEZ.
From Monday, October 25, when the Mayor's changes come into effect, drivers of vehicles which don't comply with the new emissions limits will need to pay a fee of £12.50 if their vehicles enter the zone
Wandsworth's environment spokesman Cllr Steffi Sutters said: "When the new rules come into effect on October 25 some residents may have to pay a fee to visit the waste site next to Wandsworth Bridge.
"This is because the Mayor's Ultra Low Emission Zone is being extended from its existing area of central London to cover all parts of the capital inside the north and south circulars. This means the Smuggler's Way site will be within the zone and some vehicles will be subject to a £12.50 levy if they are driven there.
"Rather than going through the hassle of grappling with a large piece of unwanted furniture to get it to the waste site and having to pay the £12.50 charge, people can book a simple and convenient pick-up service from the council instead.
"The service is quick and easy to arrange and takes away all the potential cost, inconvenience and time-consuming effort of visiting Smuggler's Way."
To book a bulky waste collection please visit the council's website. To check if your vehicle is exempt from the ULEZ charge visit Transport for London's website. People can also see a detailed map showing which parts of the borough will be included within the ULEZ on the TfL website.
Residents are also being reminded that they can have five binbags of garden waste collected from their doorsteps each week free of charge, as part of the borough's normal refuse and recycling service. This free service covers only compostable cuttings and trimmings. It does not cover rubble, stones or soil.
More information about garden waste collections is available on the council's website, along with details of other council refuse and recycling services.