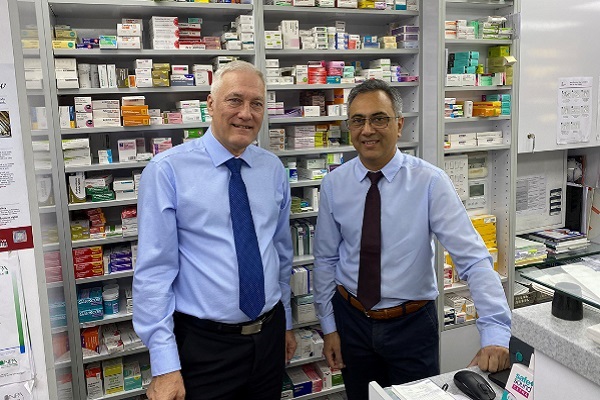 Wandsworth Chief Pharmacist Nick Beavon said: "No appointment is needed, and many local pharmacies have private consultation rooms so you can ask for advice in confidence. Getting the right treatment early can relieve symptoms and prevent your condition from getting worse. If symptoms suggest it's more serious, pharmacists have the right training to tell you if you need to see a GP, nurse or other healthcare professional."
1. Treatment advice about a range of common conditions and minor injuries, such as:
– Aches and pains
– Sore throat
– Coughs
– Colds
– Flu
– Earache
– Cystitis
– Skin rashes
– Teething
– Eye redness and infections
If needed the pharmacist can recommend you purchase certain medicines following a consultation.
2. If you ever need emergency contraception, you can talk to your pharmacist. You can purchase emergency contraception from your pharmacist after a consultation. Some pharmacists also offer a service that allows them to supply emergency contraception on the NHS to women aged 16 to 24.
3. When you are prescribed new medication for the first time your pharmacist can answer questions you may have on side effects or the best time to take it. This can include support with conditions such as asthma, high blood pressure, or diabetes, or if you start on blood-thinning medicine such as warfarin.
4. If you want to stop smoking your pharmacist can help you give up with the NHS Stop Smoking Service. They can support you and share tips to keep you on track. You can also get advice on the different types of nicotine replacements available to purchase.
5. Weight management – a pharmacist can offer expert advice on medication and products to help you lose or gain weight.
6. Health checks are available in some pharmacies for blood pressure, cholesterol and blood sugar levels, if you have any concerns. Your pharmacist can advise you on the results and if further action is recommended. Some pharmacies offer a service to help identify people over 40 with high blood pressure, who've not had issues before and refer them to their GP for diagnosis and management.
7. Vaccinations - this winter you may be able to get your flu vaccine at your local pharmacy and some are also offering COVID-19 vaccinations if you are eligible so do check what's available.
8. If you are planning a holiday, head to your local pharmacy for travel health advice. Many pharmacists offer guidance on protecting yourself before you travel including malaria consultations to help you get the right medication.
9. Substance misuse services are available at some local pharmacies, including needle and syringe exchange schemes. You can also talk to your pharmacist about drinking alcohol if you take certain medication or if you are having problems with excessive drinking.
10. Disposal of medicines – you can take any unwanted or unused medicines to your pharmacist who can dispose of them safely. Please note you cannot take used needles and syringes to pharmacies; your local council needs to arrange collection.
Find your local pharmacy on the NHS website.