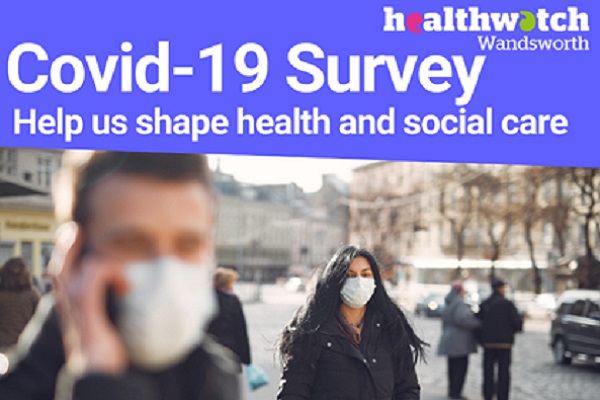 Healthwatch Wandsworth wants to hear from local people about how they have managed their health during Coronavirus. 
In May 2020 the independent health and social care champion asked people to share experiences of accessing healthcare during Covid-19.
The feedback they received last year was used to help health and care services identify issues and try to make sure people could receive the care they needed.
Now in a follow-up survey they want to hear from people again to hear how things have been going since then. Finding out about people's experiences over a longer period will help Healthwatch understand what might be needed over the coming year.
The survey takes ten to 15 minutes and asks:
Your experiences of managing your health and care during the coronavirus pandemic
What is important to you around your health in 2021?
Have you experienced any improvements in managing your health and care, or any difficulties?
What would you like to have more information about during 2021?
There are many ways you could share your views:
Complete an online survey. All responses will be kept anonymous and you will be entered into a prize draw to win a £100 shopping voucher.
Contact Healthwatch Wandsworth to arrange a time we can talk to you about your experiences (see contact details below).
Help Healthwatch hear from as many people as possible by volunteering as a Listen Up Speak Up champion for a few hours.
Invite Healthwatch along to talk with your community group 
Healthwatch Wandsworth is commissioned by the council but is a completely independent organisation. They share the views of the public on health and social care with the decision-making organisations such as the council and local health service.
Cabinet member for health and social care Cllr Clare Salier said: "The information gained last year was an invaluable insight into how people access healthcare during the pandemic. We want to see what works and what doesn't, and how we can ensure people continue to get the health services that they need."
Stephen Hickey, Healthwatch Wandsworth Chair said: "The pandemic has had a huge impact on our lives, health and wellbeing. Healthwatch Wandsworth wants to hear about your experience, here in Wandsworth."
Contact Healthwatch:
Call: 020 8516 7767, 10am – 4pm Monday to Friday.
Post: Healthwatch Wandsworth, 3rd Floor Tooting Works, 89 Bickersteth Road,Tooting, SW17 9SH.
Email (for general enquiries): enquiries@healthwatchwandsworth.co.uk 
Email (for information about local health and social care services): information@healthwatchwandsworth.co.uk