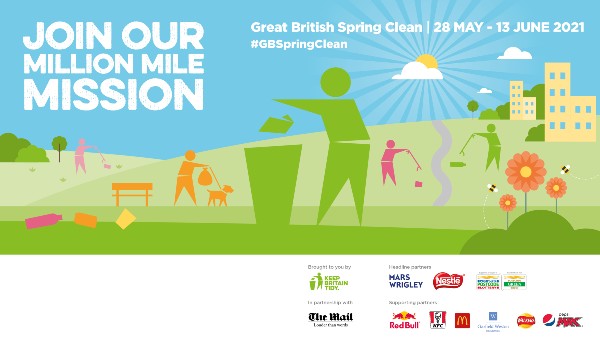 In the past 12 months, our outdoor spaces have mattered to us more than ever before, so Keep Britain Tidy is encouraging people, up and down the country, to pledge to pick up litter and record how many hours and minutes they have spent doing their bit to help the environment.
You can get involved by,
Pledging as an individual: you can pledge up to 24 hours of litter-picking at a time. If you do more than this, please make additional pledges.
Pledge as a group: you can organise a litter pick in a group of up to six volunteers, or two households. Schools can also get involved and organise their own litter picks.
Keep Britain Tidy will convert the minutes pledged, into miles, to highlight how much we have all achieved, with the hope that, come summer, we can all enjoy a cleaner, litter-free environment. 
Advice and guidance can be found on the Great British Spring Clean website,
Advice and guidance to get you to get started.
Covid-19 guidance on how to stay safe when you organise a litter pick.
You can also read a little more about why litter-picking matters, and how you can make a difference here.
Councillor Steffi Sutters, Cabinet member for community services and open spaces said,
"I'm really pleased to see the Great British Spring Clean taking place this year. It's a fantastic initiative, good for our health and wellbeing, as well as being good for the environment, so do get involved and show some love for those special outdoor places that helped us through lockdown.
"So many groups are in touch with us here at Wandsworth Council.  They give up countless hours to litter pick and beautify the borough – including the Friends Groups in our parks and on our commons, Beautify Balham, Putney Towpath Group, Thames 21 and many. I am very grateful. 

"I'd also like to flag the Roehampton Response Network who have organised the Roehampton Community Week Group, along with a full programme of clean-up activities across the summer put together by a group of local organisations and fully supported by the council.  This culminates in their community week, which runs from 5 July to 11 July.  This is great news for both Roehampton and West Putney.
"If you want to organise a group litter pick do get in touch to let us know so that we can offer support including organising for the litter to be collected. And remember, you don't need to do a lot to get involved in the Great British Spring Clean – a few minutes on a walk to your local park, or even if you're picking up litter when going to the shops can make a big difference to the local environment."
If you are getting involved, do tag photos of your litter picks. Just use the tags #Wandsworth #GBSpringClean

Plus, if you aren't already signed up to Keep Britain Tidy's Litter Heroes Facebook Group, get on over and join our active community of volunteers driving the litter-picking movement across the country!
Get in touch about your clean-up - and we'll take away the rubbish
Let us know when, and where, your clean-up is, in advance of the event, and we can arrange for rubbish to be collected. Contact Dominic.Ridley-Moy@richmondandwandsworth.gov.uk to discuss this further.