Installation of safety measures continues on Battersea Church Road
Published: Wednesday, May 5, 2021
Highways engineers implementing road safety measures in Battersea Church Road have published advance details of temporary road closures and local diversions that will be in place next week.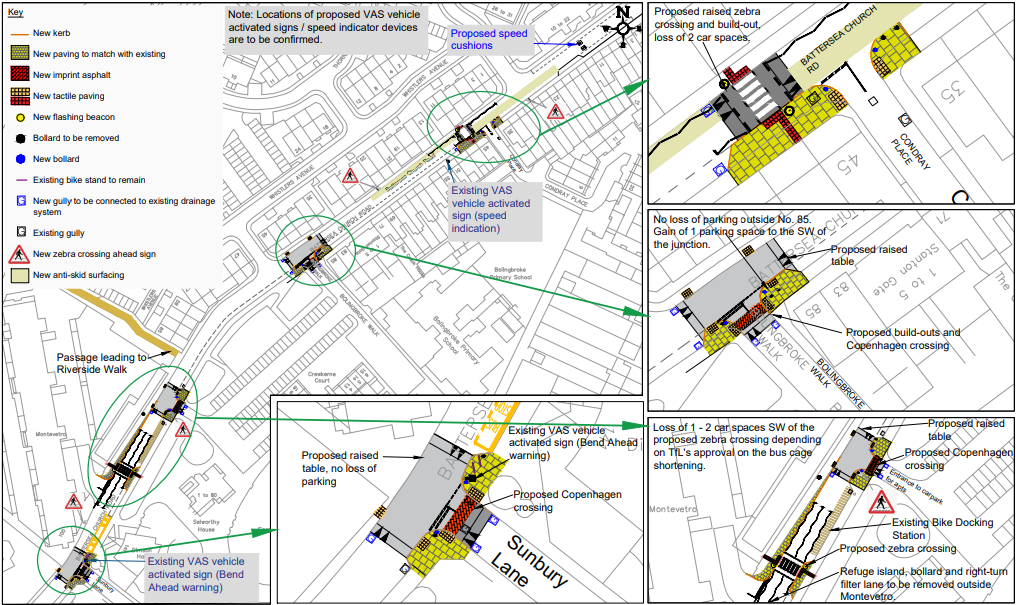 The council is taking action to improve road safety in Battersea Church Road following appeals for action from local residents. The works are designed to curb excessive vehicle speeds and improve safety levels for pedestrians and cyclists.
In order to install these safety measures Battersea Church Road will be closed to through traffic between Westbridge Road and Battersea Bridge Road, from 8pm to 5am between May 10 and May 15.
Advance notice signs will be sited on approaches and diversion routes will be in place and signposted. Access to local properties will be maintained, with arrangements in place to maintain vehicle access to Sunbury Lane, Crewkerne Court carpark and Bolingbroke Walk. Pedestrian and cyclist access will not be affected.
Two affected bus stops on Battersea Church Road will be suspended and bus route 170 towards Roehampton, Danebury Avenue will be diverted via Westbridge Road. Buses will serve all stops on the diversion route.
The project includes:
• A new raised table zebra crossing at 45-47 Battersea Church Road
• A second zebra crossing outside the "Montevetro" building.
• A raised carriageway table at the junction with Sunbury Lane
• Speed cushions near 11 Battersea Church Road
• A raised carriageway table at the junction with Bolingbroke Walk
• A raised carriageway table at the entrance to Crewkerne Court's car park
Funding for the scheme comes from the borough's Neighbourhood CIL fund which is made up of cash levied from housing developers to fund local community infrastructure projects.
Assistant Director for Traffic & Engineering Nick O'Donnell said: "We are asking for the public's patience while we install these important safety measures. The scheme has been drawn up following detailed local consultation and is designed to make this part of Battersea safer for all road users."
Residents who need more information or wish to discuss any issues arising from these closures can email TrafficAndEngineering@richmondandwandsworth.gov.uk quoting 'Battersea Church Road'.