Have your say on plans to improve Battersea's Shillington Park
Published: Friday, May 21, 2021
People are being urged to take part in a public consultation on proposed new play facilities, outdoor gym equipment and other environmental improvements in Shillington Park, building on improved community facilities in this part of Battersea which has already seen investment worth £2.3m.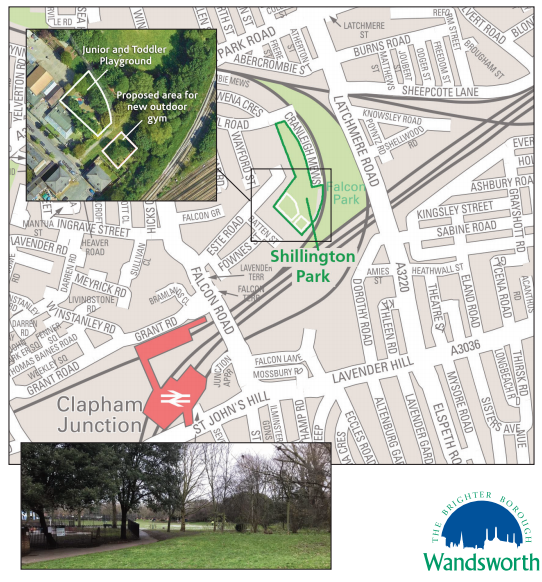 The council is especially keen to hear the views of local children and families who use the existing play area in Shillington Park and have ideas and suggestions on how it could be improved. The play area is designed for children up to the age of 12.
The aim is to publish a firm set of proposals for improvements in the autumn based on the feedback received. These proposals will then be the subject of further consultation.
People can register their views and make suggestions via an online consultation at https://haveyoursay.citizenspace.com/wandsworthecs/shillington-21. People who would prefer to fill in a paper copy of the survey can request one by emailing parks@enablelc.org or by calling 0772 511 4053. The consultation will draw to a close on Wednesday, June 30.
The council's parks and green spaces spokesman Cllr Steffi Sutters said: "We are keen for local people to tell us what they like and value about Shillington Park and how both the playground and outdoor gym facilities could be improved. We are also asking people for their thoughts on new planting in the park to support greater biodiversity.
"Once this consultation has closed, everyone's feedback will be carefully considered and will help shape three designs for improvements which we will consult local people on later this year.
"The council is keen to invest in better play, leisure and community facilities across the borough. This part of Battersea has already benefited from extensive improvements at nearby Falcon Park which has recently seen investment worth nearly £2.3m."
The children's play area in Falcon Park recently underwent a £180,000 boost with new play equipment, planting and landscaping at the norther end of the park.
This coincided with the installation of a new £2.1m all-weather pitch in the south western corner of the park aimed at boosting sports participation and improving leisure facilities for the area's young people.
The new 3G artificial grass pitch replaced four existing junior size grass pitches which were regularly found to be unplayable in the winter months because of waterlogging.
The new pitch is being used by local clubs and groups for football and other sports like rugby and cricket. It has been enhanced by the construction of a modern new changing pavilion as a replacement for the park's previously vacant and obsolete one.
The council is also planning to build a brand-new state-of-the-art leisure centre in this part of Battersea as part of its regeneration proposals for the York Road and Winstanley estates.