Government flytip figures show Wandsworth is a cleaner borough
Published: Friday, May 21, 2021
Official Government figures show that flytipping continues to pose a major challenge for some councils and local communities across London – but Wandsworth remains one of the capital's cleanest boroughs.
The Government data shows that Wandsworth has the second lowest number of recorded flytips in inner London.
The Wandsworth figure of 4,745 also compares favourably with neighbouring boroughs.
Over the same period Merton had 13,047 flytip incidents, Hammersmith & Fulham 13,332, Westminster 15,283, Kensington & Chelsea 6,490 and Lambeth 6,638.
Other boroughs suffering serious flytip issues include Croydon with 25,532 incidents last year, Hounslow with 22,480 and Brent with 34,197. London's worst affected borough was Camden with 34,465 reported flytips.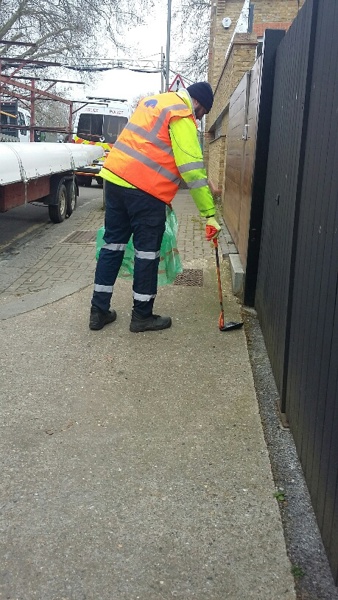 Working hard to keep Wandsworth's streets clean
Across London's 32 boroughs just over 360,000 flytips were recorded. This means that Wandsworth suffered only 1.3 per cent of the capital's flytips.
Environment spokesman Cllr Steffi Suters said: "These figures confirm that flytipping is a serious problem across the country – and that London in particular suffers badly from this environmental crime.
"But the data shows quite clearly that here in Wandsworth we have many fewer cases than most other parts of the capital.
"While this is welcome news we fully recognise that a single flytip is one too many so we will not be complacent about the challenges we face in keeping our streets and parks clean and free of flytips.
"We know for sure that some local neighbourhoods are more badly affected than others and residents in these areas can rest assured we are putting in extra resources to tackle this problem."
The council has introduced a number of initiatives to tackle professional flytippers and others who either through neglect or carelessness allow streets to be littered.
These measures include strict rules for shops and businesses about how and when they are allowed to place their refuse on the pavement while it awaits collection, which has helped tackle one of the biggest flytips causes at source.
The council has also stepped up its inspection efforts to make sure that businesses fulfil their legal obligation to have proper arrangements in place for the collection and disposal of their waste. Those that don't face an instant fine - and this has led to a big reduction in flytips.
The council has also stepped up enforcement action to deter people from leaving binbags on street corners, while also working hard to alert residents to the perils of employing the unlicensed operators who drive around looking for waste to collect - and having pocketed the cash to dispose of it properly – just dump it nearby.
The council also offers a cheap and competitive rate to remove large unwanted items like old mattresses and furniture, which has also played a role in reducing the number of these items that are dumped on the streets.
Cllr Sutters added: "Because it is important to clean up flytips swiftly before they get any bigger we are urging residents to report them to us so we can nip any problems in the bud.
"And if anyone has information about people or businesses dumping waste on our streets then please notify us immediately so we can take the appropriate action."
For details of how to book a bulky waste collection and information on refuse and recycling collections please visit www.wandsworth.gov.uk/waste. Flytips can also be reported over the phone by calling (020) 8871 8558.