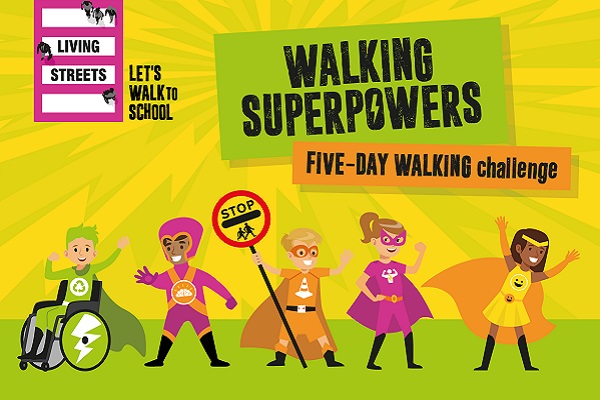 Walk to School Week is organised by Living Streets and this year participating schools will be introducing pupils to the benefits of walking through comic book-style characters the Walking Superpowers. Children will be encouraged to take the challenge of making as many active journeys to school as possible, with rewards including stickers and badges.
Wandsworth Council is backing the scheme and is urging parents to walk their children to school whether their school is taking part or not.
Support for Walk to School Week is part of an ongoing programme of support offered by the council to schools to encourage active travel. Wandsworth Council has a dedicated member of staff that helps schools draw up travel plans, as well as organising road safety talks, shows and training.
School travel plans aim to reduce traffic and pollution outside schools, promote safety and improve young people's health. Grants are available to help schools put measures in place such as cycle parking and other small grants may be available to support active travel measures in the future.
Schools with travel plans are also encouraged to work towards Transport for London's STARS accreditation programme. Twenty-nine Wandsworth schools are accredited, with more submissions currently in the pipeline. The council carries out ongoing monitoring work to ensure the plans are working.
The council works with schools that have travel plans to potentially bring in road safety schemes where necessary, including school streets which close the road outside the school to vehicles during drop-off and pick-up time. Wandsworth now has 19 school streets – the third highest in inner London. Cameras are now being used at some schools and drivers flouting the rules can expect a penalty charge notice in the post.
The council also provides cycle training to young people, via schools during term time and directly through free bookable sessions during the holidays. Pedestrian and scooter training is also provided via schools.
Cllr Will Sweet, cabinet member for education and children's services said: "We are encouraging young people to make the most of Walk to School Week and choose a healthier, more environmentally-friendly way to get to school. And we're working with our schools to help them create even greener school travel plans."
Cllr Rory O'Broin, cabinet member for finance, corporate resources and climate sustainability said: "As part of our wide-ranging environmental strategy, we're working closely with schools to provide training and education to young people and put measures in place to reduce traffic around the school gates and deter vehicle idling. We hope that parents and young people choose to walk to school whenever they are able to."