Final call for residents to submit their views on retaining lower speed limits on some of the borough's busiest roads
Published: Tuesday, May 25, 2021
Residents are being reminded they still have a few days left to take part in a public consultation on retaining lower speed limits on some of the borough's busiest roads.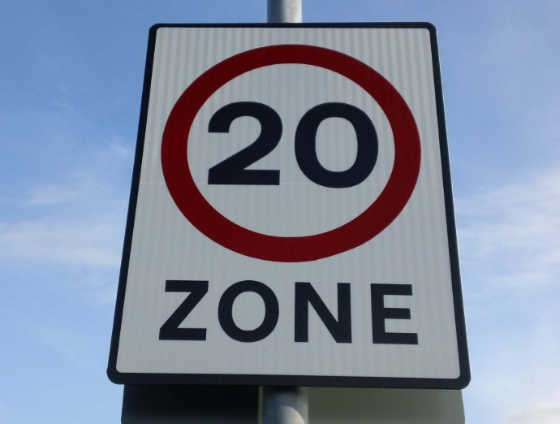 Last year the council introduced a 20mph pilot scheme on 25 A and B roads in the borough where the town hall is the highway authority.
These roads were incorporated into Wandsworth's existing borough-wide 20mph zone which has seen a lower limit in place in virtually every residential side street in the borough since 2017.
The six month consultation is now drawing to a close and people have until May 30 to have their say on whether or not these 25 roads should have permanent 20 mph limits introduced.
The list includes busy roads like Garratt Lane, Merton Road, Lower Richmond Road, Putney Bridge Road, Queenstown Road, Bedford Hill, Mitcham Lane, Lavender Hill, Burntwood Lane and Earlsfield Road.
The list does not include any of the borough's strategic trunk roads which are all controlled and managed by Transport for London. The council has previously urged the Mayor and TfL to follow suit and lower the speed limit on their network of "Red Routes" in Wandsworth to 20mph.
The council's transport spokesman Cllr John Locker said: "I would encourage local people who support safer streets to take part in this consultation if they haven't already done so
"These are some of the borough's busiest roads and we believe that formally making them 20mph will make a big difference to people's safety and quality of life.
"We have already seen a reduction in vehicle speeds within our existing 20mph zone and it is clear that drivers are getting the message to slow down and the vast majority are doing so.
"Lower speed limits should mean safer streets and this will hopefully encourage other forms of sustainable transport like cycling and walking. It should also means quieter streets which will also be welcomed.
"Accidents involving collisions between pedestrians and vehicles are three times less likely to be fatal if the speed of the impact is 20mph compared to 30mph. Studies have shown that at 30mph, 55 per cent of collisions result in a fatality while at 20mph this figure plummets to just 17 per cent.
"We believe this change could also prove beneficial for local air quality too. A study by Imperial College found that diesel vehicles with engines of between 1.4l and 2.0l produce fewer harmful emissions at 20mph than at 30mph while smaller petrol and diesel engine vehicles both generate fewer particulates when driven at this lower speed, so this change has the potential to bolster our efforts to reduce pollution.
"We are also renewing our calls for the Mayor and TfL to do the same and introduce a 20mph limit on their Red Routes. These are London's busiest and most congested roads and which also suffer the worst impacts of air pollution. Reducing the speed limit on these strategic roads could provide huge relief for millions of Londoners.
"At the very least I have suggested to the Mayor he looks at making the dual-carriage-way roads that make up the Wandsworth one-way system 20 mph. This would make it so much better for pedestrians and cyclists in Wandsworth Town Centre right now whilst we work on the longer-term replacement of the gyratory. So far I haven't heard back but I really do hope the Mayor will respond positively to my suggestion as it would make such a difference for the people of Wandsworth."
Enforcement of speed limits is carried out by the Metropolitan Police, with the council working in support of their efforts. Any revenue generated by speed fines goes direct to HM Treasury - not the town hall.
The list of roads included in this consultation appears below. To take part in the consultation please visit https://haveyoursay.citizenspace.com/wandsworthecs/20mph-2020.
For more information about 20mph zones visit www.wandsworth.gov.uk/20mph.
Last year the council declared a climate emergency and set targets to become carbon neutral by 2030 and a zero-carbon organisation by 2050. To find out more visit the council's website
'A' Roads

Albert Bridge Road
Buckhold Road
Falcon Road
Garratt Lane
Lavender Hill
Merton Road
Mitcham Lane
Mitcham Road
Putney Bridge Road
Putney High Street
Putney Hill
Queen's Circus
Queenstown Road
St John's Hill
Tibbet's Ride
Wandsworth Bridge Road
Wimbledon Park Side

'B' Roads

Bedford Hill
Broomwood Road
Burntwood Lane
Church Lane
Earlsfield Road
Lombard Road
Lower Richmond Road
Nightingale Lane
Queen's Ride
Spencer Park
St. James's Drive
Summerstown
Vicarage Crescent
Westbridge Road
Windmill Road