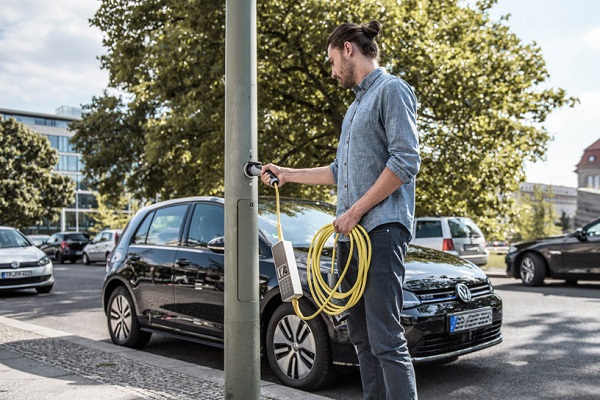 The council has been awarded funding from the Government's 'Go Ultra Low Cities Scheme' (GULCS) which will help drivers pinpoint chargers.
Recently published Department for Transport figures show that Wandsworth has the second highest number of charging points in the country – beaten only by Westminster which has added 90 more since October.
But with another 200 to be installed shortly the borough is likely to regain its lead at the top of the UK league table – and is well on its way to meeting its overall target of delivering 900 public charging points.
The latest data shows that Wandsworth currently has 594 publicly available charging points. Westminster has 646.
Both numbers easily outscore some of Britain's biggest cities. Liverpool has only 135, Leeds 212, Nottingham 143, Edinburgh 117, Birmingham 122 and Bristol 103 whilst the Welsh capital Cardiff has just 55.
The borough's south west London neighbours also lag behind with Lambeth offering 247, Richmond 327, Merton 168, Croydon 96, and both Sutton and Kingston with 52 each.
The DfT figures, which cover up to the end of January, also show Wandsworth having one of the best scores in the UK for the ratio of charging points to population. Its score of more than 180 per 100,000 residents is the fifth highest in the country.
Most of the borough's charging sockets have been fitted to lamposts to reduce pavement clutter and keep footpaths free for pedestrians. The power supply for these chargers, which have been installed in partnership with ubitricity, along with those installed by Source London, comes only from renewable sources of energy.
Wandsworth has embraced electric vehicle technology as one strand of its efforts to tackle climate change and improve local air quality. It is fully committed to supporting efforts to persuade residents and businesses to make the switch from diesel and petrol-powered vehicles to cleaner and greener electric versions.
Another reason why EV charging points are being fast tracked in Wandsworth is to support residents ahead of the proposed expansion of London's Ultra Low Emission Zone (ULEZ), which will include all parts of the capital within the north and south circular roads from October.
If the ULEZ is extended as currently proposed, vehicles and motorcycles which enter the zone but don't comply with its emission restrictions will have to pay £12.50 a day – but electric vehicles will be exempt.
People can check if their car or motorbike is exempt from the charge by visiting the TL website.
Wandsworth residents are already streets ahead when it comes to embracing electric vehicle technology. The annual number of plug-in vehicles registered in the borough has grown from 252 in 2012 to nearly 6,000 – with numbers rising by more than ten per cent every three months.
This route towards emissions free motoring is also being embraced by the council, whose own fleet of cars, vans and lorries is gradually being replaced by electric versions. All will eventually go electric as suitable vehicles become available.
There are also EV choices available locally for those who don't need to own a vehicle but want to enjoy occasional eco-friendly motoring. The Zipcar Flex car club includes a proportion of EVs, offering a convenient and eco-friendly alternative to car ownership, providing electric vehicles to hire by the hour, day or longer periods. Wandsworth has the highest take-up rate of car club membership in the country with more than 31,000 registered members.
Transport spokesman John Locker said: "By investing so much in promoting and supporting this eco-friendly and emission free form of motoring we are laying the foundations to help persuade people who need a car to ditch the diesel and petrol and go electric instead.
"The rapid growth in the number of charging points we have supported in Wandsworth means that running an electric vehicle is now a realistic choice for local people.
"This is just one of the ways the council is taking action to reduce pollution and improve local air quality."
To view a map of the borough's charging points visit zap-map.com. For more information about owning an electric vehicle in the borough visit www.wandsworth.gov.uk/driveelectric
To find out more about how the council is working to improve local air quality visit www.wandsworth.gov.uk/airquality.
The council has declared a climate emergency and unveiled ambitious plans to tackle climate change. The aim is to make Wandsworth inner London's greenest borough by becoming carbon neutral by 2030 and carbon zero by 2050. For more information visit www.wandsworth.gov.uk/climatechange.