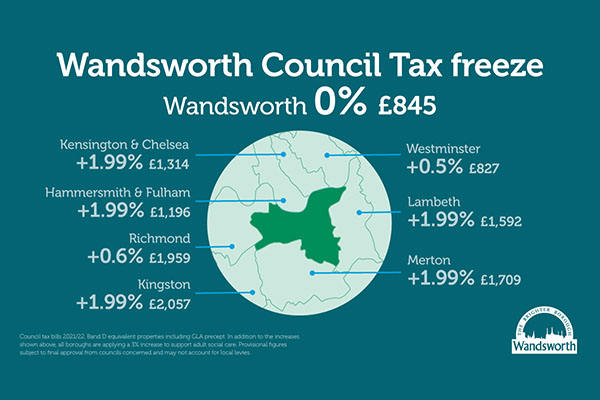 At Wednesday night's meeting of all the borough's 60 councillors it was agreed that the general element of Wandsworth's bills would be frozen for another year.
Councillors also approved an increase in the money available to support social care. This will mean an average extra charge of £14.03 a year, with Wandsworth residents still benefiting from one of the lowest council tax bills in the country.
This takes Wandsworth's overall average Band D council tax bill for the entire year to £845.44 - of which £363.66 is payable to the Mayor, whose precept is increasing by an additional £31.59 - equivalent to a 9.5 per cent rise.
Council leader Ravi Govindia said: "I'm delighted that Wandsworth Council is able to continue to offer solid support to our residents, many of whom have been hit hard by the pandemic. Removing the worry of an increase in our share of tax bills is something I am enormously proud of.
"Our residents have benefited from low council tax bills for decades. This has been made possible by years of sensible financial management and places us in the unique position of being able to freeze our share of the general council tax charge for the next financial year.
"We recognise the impact that COVID is having on our residents, many of whom may be struggling financially for the first time. Keeping our bills as low as possible is the single most effective thing we can do to help the largest number of people."
At Wednesday's meeting the council also agreed to consult with residents about setting up a new charitable trust to take donations from higher band council tax payers and others should they wish to contribute more to help those suffering hardship.
Cllr Govindia said: "There is widespread support in the community for a mechanism that will allow people to pay a little more to help others who are suffering at this difficult time. It really heartens me that this sense of community exists across Wandsworth. Keeping our bills affordable to all helps create the circumstances that allows this generosity and community spirit to flourish."
The borough's council tax package includes a three per cent increase in funding for social care, protecting the vital services that the borough's elderly, disabled or vulnerable residents rely on.
Cllr Govindia said: "We have seen throughout the pandemic just how important our social care services have been and we will continue to support all our carers who are so important to our communities and make a real difference to people's lives particularly during these difficult times."
Councillor Rory O'Broin, Cabinet member for Finance, Resources and Climate Sustainability, added: "Wandsworth has a long tradition of having one of the lowest levels of council tax in the UK, while at the same time delivering some of the country's best town hall services.
"We are the only council in London freezing our share of the general element of council tax this year. We will continue to work hard for our residents by making sure we do everything we can to keep their household bills as low as possible."