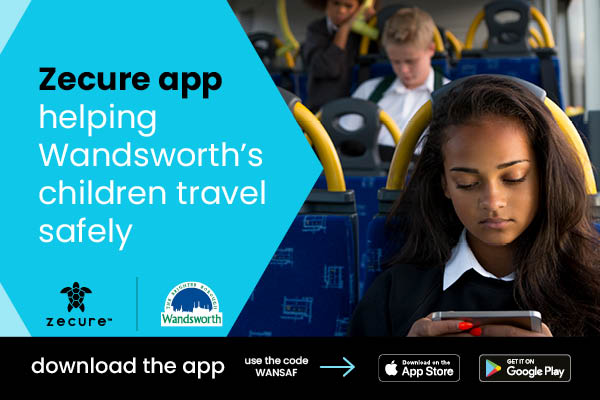 The Zecure app has been launched around the time children return to the classroom, and is free to download and use. The partnership is believed to be the first of its kind in the UK.  
Wandsworth remains inner London's safest borough, but before lockdown the police and council received reports of some robberies on secondary school age children. Patrols by Safer Schools officers were stepped up and children were given safety advice, but the police and council wanted to find an effective, longer-term solution. 
The app allows children to alert emergency contacts if they need help by holding down a panic button or by shaking their phone. They can also inform parents when they have left school and arrived home safely.  
Zecure is a London-based tech firm whose app helps organisations keep people safe at home and work. The app protects millions of users every day and is trusted by companies like Savills, BlackRock and British Airways. 
Cllr Jonathan Cook, chairman of the Wandsworth Safer Neighbourhood Board, said: "Reports of robberies on schoolchildren are thankfully rare, but we wanted to find a way to give families peace of mind. We believe this is the first partnership of its kind in the UK and we hope it helps children stay safe." 
Cllr Will Sweet, Wandsworth Council's cabinet member for education and children's services said: "We have been working hard to ensure our schools are safe environments for children during Covid, and we have also listened to concerns from parents about the safety of their children to and from school, which is why we have partnered with Zecure to launch this free and simple to use app." 
Mikkel Dissing, CEO at Zecure added, "I'm a Wandsworth parent and understand the need to protect our children from crime in the area, I'm happy to help families in Wandsworth stay safe with Zecure." 
You can download Zecure now from the app store. To register use the six letter code specifically for Wandsworth: WANSAF. 
Parents can also sign up to Wandsworth Schools Watch for personal safety advice, information and updates on safe transport routes. Visit www.wandsworth.gov.uk/owl-online-watch-link